all of the red brick buildings on Independence Square look as though they were part of Independence Hall, but there is one exception. The building facing Fifth Street is Philosophical Hall, one of the four buildings of the American Philosophical Society. Right now, Philosophical Hall is used as a museum. It could be called the first museum in America, but not the oldest, because it had interruptions and different proprietorships. Charles Wilson Peale started his museum of curiosities there, and then moved it to the second floor of Independence Hall, where he painted the famous portrait of himself holding up the curtain. In recent years, Philosophical Hall has again become a museum, holding treasures and curiosities belonging to the Philosophical Society itself. The docent is pleased to alternate between calling it America's new oldest museum, and America's oldest new museum. And, yes, the newell post has an Amity Button.
Patents were established by the Constitution when it was a piece of parchment lying on a table fifty feet away from here, and the early patent office required the submission of a working model of every application for patent. After a while that got to be a lot of working models lying around, and many of the more interesting ones are on display in the museum. Like the model of Fitch's first steamboat, or the gadget Jefferson used, to make simultaneous copies of documents he was writing. That's right near the Gilbert Stuart copy of Washington's portrait, and von Neumann's first algorithm to be stored in his stored program machine, or computer, and Neil Armstrong's speech on the moon, concerning one step for mankind and all. It's a splendid museum, full of the real stuff, in a handsome Georgian building with sparkling immaculate marble staircases.
In the Eighteenth Century, Natural Philosophy was what we now call science. That's why PhDs get a degree of Doctor of Philosophy when they study chemistry and physics. The idea for forming a scientific society in America apparently originated with John Bartram. As so often happens, the originator couldn't quite get it established, and had to call on Ben Franklin that impressario of publicity, to get it off the ground. To be fair about it, Franklin was probably the more distinguished scientist of the two. To be even more fair about it, the organization struggled a bit until Thomas Jefferson (that's the one who was President of the United States) gave it a real publicity shove. During the depths of the 1930s depression, one of the members left it several million dollars with the stipulation that the investments should focus on common stock. Since buying stock in 1935 was widely regarded as about the stupidest thing an investor could do, this little episode reinforced a strong impression that membership in the APS is given to people who are very smart, not merely famous. The four buildings, the many fellowships, and the big endowment were largely made possible by this contraries investment decision.
There are eight hundred members, of whom 93 have won Nobel Prizes. Over the years, two hundred members have been awarded Nobel Prizes, but you must remember that the organization existed for 150 years before there was such a prize. Several U.S. Supreme Court justices are members, and lots and lots of people who are famous. The docent comments that they look pretty much like everyone else. There's a rumor that Bill Gates turned down the offer of membership, so now we will just see. He's young enough to have several decades' opportunity to reconsider an offer, although the APS might just be old enough to lack interest in any second chances.
At the corner of 808 Locust stands a condominium building with a colorful history. It was originally the First Presbyterian Church, and then in 1820 the famous architect William Strickland converted it into the largest musical auditorium in the City. For several years, a group of music lovers had been meeting to discus the problem of aging and retired musicians, most of them impoverished. The idea arose of giving several benefit performances each year to raise money for retired musicians, and the idea was enlarged to create a Musical Fund Society to put on regular concert series. Since it was by far the largest public auditorium, it also served for graduations, speeches, conventions.
It thus came about that in 1856 the Republican Party held its first national convention there, nominating for President John C. Fremont, the famous explorer of the West. The Republicans had two main components, the advocates of the abolition of slavery, and the residual of the Whig Party, which had come apart. The Whigs were mainly concerned with using government effort to promote the economy, building canals and roads, and similar ideas for public benefit. Abraham Lincoln had been a fervent Whig.
And then the third strain of history in this old place is the development of Musical Unions. This is natural enough, in view of the original purpose of helping indigent musicians. But unfortunately, several competing unions appeared, most of them on Locust Street, and the dissention was bitter and continuing. In 1871 Philadelphia was the scene of the creation of the National Musical Association, and although the local 77 became a part of the national movement, it was stormy. Competitive musical unions had a history of calling the police to shut down speakeasies run as private clubs by their competitors. During the Depression of the 1930's there were many accusations of Communist infiltration, and counter accusations that Joseph Petrillo, the national president, was a Nazi. An underlying theme among musicians was that foreign immigrants were willing to work for less than the standard wage, and hence many of the coercive features of the union were aimed at forcing immigrant musicians to become members, and to refuse to work for substandard pay.
Some idea of the bitterness in the situation can be gained from the strike against the Philadelphia Orchestra in 1956. Ten years later, only one member of the union in ten was employed.
The American colonies were growing too big, too fast, and the British Empire had too many international distractions, to have smooth relationships across three thousand miles of ocean, using uncertain communications available in the late Eighteenth century. Friction and misunderstanding were inevitable without far more statesmanship than either side thought was necessary. So, when the Continental Congress dispatched George Washington to Boston with troops to defend rebellious Massachusetts at Lexington, Concord and Bunker Hill, it was hard for the British to believe the colonists were merely helping out one of their distressed neighbors. It seemed in London that the thirteen colonies had united, formed not only an army but a government, and gone to war. In December 1775 England passed the Prohibitory Act, essentially declaring war, and organized a huge invasion fleet to put down the rebellion. It now seems hard to understand the first notice the Americans had of this huge over-reaction was a private letter to Robert Morris from one of his agents in March 1776; no warnings, no negotiations, no attempt to investigate problems and correct them. The British just sent a fleet to settle this problem, whatever it was. It's all very well to say the Americans should have known they were playing with fire. They didn't see it that way; they were being self-reliant, responding to attack. In June, 1776 British patrol frigates were skirmishing in the Delaware River; late in the month British troops landed on Staten Island. The American reaction to all this was a muddle of confusion. A few were delighted, most of the rest were amazed or appalled.
The rebels then spent eight years convincing the British they were serious, and have been independent ever since. But, just a minute, here. Reflect on the fact that fighting had been going on for a year in Massachusetts, and that Lord Howe's fleet had set sail a month before the Declaration, actually landing on Staten Island at just about the same time as the Fourth of July. Add the fact that only John Hancock actually signed the document on July 4th, and some of the signers even waited until September. You can sort of see why John Adams never got over the idea that Thomas Jefferson had a big nerve implying the whole Revolution was his idea. What's more, there's a viewpoint that New England subsequently had to endure a President from Virginia for thirty-two of the first thirty-six years of the new nation because loud talk from New England still made the rest of the country nervous. Philadelphia may have been the cradle of Independence, but that was not because it was a colony hot for war, dragging others along with it. Rather, it was the largest city in the colonies, centrally located. It had a strong pacifist tradition, and it had the most to lose from a pillaging enemy war machine. When Independence was finally declared the goal, many of Philadelphia's leading citizens moved to Canada.
New England had started hostilities, and was about to be subdued by overwhelming force. The Canadians were not going to come to their aid, because they were French, and Catholic, and enough said. What New England and the Scotch-Irish needed were WASP allies, stretching for two thousand miles to the South. By far the largest colony was Virginia, which included what is now Kentucky and West Virginia; it even had some legal claims for vastly larger territory. Virginia was incensed about its powerlessness against British mercantilism, especially the tobacco trade. The rest of the English colonies had plenty of assorted grievances against George III, and almost all of them could see that America was rapidly outgrowing dependency on the British homeland, without sign that Parliament was ever going to surrender home rule to them. It was perhaps unfortunate New Englanders were so impulsive, but it looked as though a military confrontation with the Crown was inevitably coming. Without support, New England was likely to be torched, as Rome once subdued Carthage.
And the last hope for an alternative of flattery and diplomacy, for guile and subtlety, had stepped off the boat a year earlier. Benjamin Franklin, our fabulous man in London, arrived with the news he had finally had it "up to here" with the British ministry. He was a man who quietly made things happen, carefully selecting his arguments from amongst many he had in mind. In retrospect, we can see that he held the idea of Anglo-Saxon world domination as far back as the Albany Conference of 1745, and could even look forward to America outgrowing England in the 19th Century. His behavior at the Constitutional Convention of 1787 strongly suggests he never completely gave up that long-term dream. Just as Edmund Burke never gave up the idea of Reconciliation with the Colonies, Benjamin Franklin never quite gave up the idea of Reconciliation with England. While John Dickinson and Robert Morris resisted the idea of Independence down to the last moment, Franklin took a much longer view. For the time being, it was necessary to defeat the British, and for that we needed the help of the French. In 1750, America joined with the British to toss out the French. And then in 1776, we joined the French to toss out the British. Franklin didn't always get his way. But Franklin was always steering the ship.
These stereotypes may or may not explain some of Tom Paine's paradoxes. He certainly was not a pacifist, a quietest, or a plain person. He was an important historical figure; Walter A. McDougall, the famous University of Pennsylvania historian, feels the American colonists might have sputtered and complained about Royal rule for decades, except for Paine. The American Revolution happened when it happened, because Tom Paine stirred up a storm.
According to the traditional way of telling his story, Tom Paine was a ne'er do well failure in London. He ran into Benjamin Franklin, who advised him to emigrate to America in 1775, and within a year his pamphlet called ""Common Sense"" had sold 150,000 copies (some even claim 500,000), galvanizing the public and the Continental Congress into action on July 4, 1776. George Washington read Paine's writings to his troops on the eve of the Battle of Trenton. After that, Paine got mixed up with the French Revolution, and apparently became a severe alcoholic, proclaiming atheism all the way. Although Thomas Jefferson remained friendly to the end, Benjamin Franklin essentially told him to go leave him alone, and Washington would cross the street to avoid him. According to the usual line, Tom Paine was a big-mouthed rabble-rouser and a drunk, who traveled the world looking to stir up revolutions.
Furthermore, Paine was able to reach the rationalists of The Enlightenment with arguments which cut to the heart of Royalist loyalties. America was too big and too remote to be ruled by a king, particularly one who abused his privileges behind a claim of divine right. William the Conqueror, for example, never denied he was a usurper. One way or another, every king must earn his throne. So, as for feudalism and hereditary aristocracy, what was King George doing with all those German mercenaries? After two centuries of democracy, most Americans are too far from feudalism to appreciate the legitimacy of military meritocracy. Whatever King George was up to, he didn't stand for empowerment of the best and the brightest Englishmen, who in fact might well be opposed to him. If you wanted to get to Virginia aristocrats, Boston sea captains, and Kentucky backwoodsmen, that was exactly the line to take in Common Sense.
Unfortunately, Citizen Tom Paine was a freethinker and couldn't be quiet about it in his later books. He didn't like the way the Old Testament Hebrews hungered for a king. He didn't like the way the New Testament sprinkled miracles on top of unassailable moral principles, and he particularly didn't like the claim that God got an unmarried girl pregnant. He antagonized almost every established religion by proclaiming that no one should make a living from religion. He wrote a book called Age of Reason proclaiming all these freethinking ideas, which struck Ben Franklin as such a stupid thing to do that he would not discuss it, beyond saying that even if he should succeed in convincing people to abandon religion, just imagine how much worse they would probably behave without it. George Washington, who hadn't a trace of intellectualism about him, more accurately portrayed the typical American revulsion at anyone who was so unprincipled as to say such unorthodox things in public. Jefferson distanced himself for political reasons rather than intellectual ones. Franklin thought Paine was a fool. Washington, and the rest of the country, thought he was a viper.
It would have to be conceded -- by anyone -- that Tom Paine was self-destructive, even sassing Robespierre while in a French prison. How is it such a loose cannon could get the American public off dead center and make the Continental Congress grasp the nettle of revolution, in less than a year? Let's go back to how he came to America in the first place. Franklin sent him.
Even today, a best-seller is defined as a book that sells 50,000 copies, and it generally takes three years to get it done. In the Eighteenth Century, for an unknown alcoholic to get off the boat and find a publisher for a best seller in a few weeks is hard even to imagine. Unless he had important help.
Girard was born in Bordeaux, France and never went to school. By the age of 23 he had become a sea captain, like his father and grandfather. By the age of 27, he owned his own ship, and was thus launched on a successful career in a very dangerous occupation. Depending on the destination and weather during that era, up to forty percent of sailors were lost at sea on long voyages. From the point of view of the passengers and shippers, when you were selecting a captain you wanted one who had returned unharmed from many voyages. It was irrelevant whether he had been lucky, or diligent, or had learned a lot from his relatives in the trade.
Stephen Girard did start with a handicap, being born blind in one eye. It may have been a personality disorder which drove him to precise, minute instructions to his subordinates in excruciating detail; he might now be called a "control freak" and be disliked for it. For example, he kept a handwritten copy of all letters he wrote, and at his death there were 14,000 of them, sorted and filed. His wife went insane, and after spending years at the Pennsylvania Hospital, was buried on the grounds. If this is the price of being rich, some might consider remaining poor. During his working years in Philadelphia, he would normally get to the counting-house at 5AM, go to his bank at noon, and go to work on his 600-acre farm in South Philadelphia after 5PM. He said he liked farm work the best. The image left behind by this role model, then, was workaholic. Nevertheless, if you wanted to become the richest man in America, here was the pattern to follow.
Girard probably came as close as any rich man in history, to "taking it with him" when he died. His innately compulsive personality, combined with the sure knowledge that his relatives and others would probably try to break his will for their own benefit, led to the construction of a last will and testament that withstood a century of court challenges. It launched a remarkable philanthropy for thousands of orphans, and organized the whole Delaware Valley into an industrial machine unlike anything else in the country. Although he left the largest estate in the nation's history, that estate continued to accumulate money from his minute instructions to executors, eventually enlarging his vast fortune fifty-fold, a century after his death. In retrospect, Philadelphia might well have slowly declined into obscurity after the nation's capital moved to Washington in 1800. Instead, the coal, canal, railroad and industrial empire of the Philadelphia region became the "arsenal of the North" during the Civil War, and the main wealth generator of the Gilded Age which followed.
Girard's business career can be somewhat oversimplified as consisting of shipping at the base of his early good fortune, followed by banking during the era when banking was poorly understood and usually ineptly managed. He ended his career with an eager and successful embrace of the emerging Industrial Revolution. Throughout all of this, he characteristically took great risks for great profits, through recognizing what others were too timid to accept fully. On many occasions, his risky ventures resulted in very large losses, made acceptable by other risky ventures proving unexpectedly successful. An example would be Girard's Bank. When the Federal Government first started and then abandoned the First National Bank, Girard bought up the remnants and made a great private success of banking, where he had little previous experience. He saw the potential of the canals, and later the railroads when others were content to be farmers or country gentlemen. When he was 79 years old, he purchased vast tracts of wilderness containing some outcroppings of coal, because he could foresee a great industrial future for the region. No pain, no gain.
Another way of looking at Girard was as the most prominent French-American citizen of his time. He arrived in Philadelphia at about the same time Benjamin Franklin stepped off another boat, returning from abusive treatment by British officials which finally flipped him for American independence. Franklin recognized that independence from England meant an alliance with France, or else it meant defeat. It is possible to view the American Revolution as an episode of France searching for an American foothold after its expulsion fifteen years earlier in the French and Indian War; trouble between Britain and its colonies might re-open opportunities for France. Girard was extremely friendly with Thomas Jefferson, the most Francophile of founders and early American presidents. When the War of 1812 with Great Britain threatened disaster for the new American state, Girard staked $8 million dollars, his whole fortune, on financing that war. During the entire period from 1776 to the Louisiana Purchase, America was wavering between its gratitude to France, and underlying loyalty to the English-speaking community. During that long formative period, Girard the very rich Frenchman was hovering in the background, probably influencing American foreign policy more than is known, even today. But the France that Girard stood for was neither aristocratic of the LaFayette variety, nor intellectual of the Robespierre sort. It was France of the French peasant, crabbed, acquisitive, and morose, forever responding to a "hidden hand" of his own self-interest in a way that paradoxically benefited his whole community, and thus would have hugely amused the Scotsman Adam Smith.
The early Quakers disapproved of having their pictures painted, even refused to have their names on their tombstones. Consequently, relatively few portraits of early Quakers can be found, and it might therefore seem surprising to see a picture of Dr. Thomas Cadwalader hanging on the wall at the Pennsylvania Hospital. A plaque relates that it was donated by a descendant in 1895. Another descendant recently explained that the branch of the family which continued to be Quaker spells the name Cadwallader. Dr. Cadwalader of the painting, famous for presiding over Philadelphia's uproar about the Tea Act, was then selected to hear out the tea rioters because of his reputation for fairness, and remains famous even today for his unvarying courtesy.
I was standing at the foot of the staircase of the Pennsylvania Hospital, chatting to a young woman who from her tailored suit was obviously an administrator. I pointed out the Amity Button, and told her its story, along with the story of Jack Gallagher, whom I knew well, bouncing an empty beer keg all the way down to the Great Court from the top floor in the 1930s, which was then being used as housing for the resident physicians. Since the young woman administrator was obviously beginning to regard me like the Ancient Mariner, I thought one last story about courtesy was in order. So I told her about Dr. Cadwalader and the shooting.
"Well," she said, "The moral of that story obviously is that you should always wear a hat." There then being no point to further conversation, I left.
"Everywhere there are children swarming like broods of ducks, large fertile farms, flourishing industries, and harborsbarely able to hold the and fishing and Merchant Fleets

"Whatever may be done in London," judged de Kalb, "this country is growing too powerful to be much longer governed at such a distance."
- as cited by Walter A. MacDougall, Freedom Just Around the Corner
The birthplace of our nation is both smaller than you would expect, and larger. The fire marshall now says no more than 83 people may rent it for a sit-down affair, or 103 for a stand-up gathering. However, the internal partitions have been removed from what was once a center-hall building with a meeting room on either side; it now is a large open room in the form of a Greek cross. At the time of the revolution, Benjamin Franklin's Library Company occupied the second floor, so the First Continental Congress had to find a way to do its work in the side rooms of the first floor, to the side of the center hall. There were 53 delegates, and presumably some staff and visitors.
That sounds rather crowded, but it was nevertheless the largest rentable public space in the city. John Adams arrived early for the convention, conniving with several other early arrivals at the City Tavern. Adams made the following notation in his diary: Monday. At ten the delegates all met at the City Tavern, and walked to the Carpenters' Hall, where they took a view of the room, and of the chamber where is an excellent library; there is also a long entry where gentlemen may walk, and a convenient chamber opposite to the library. The general cry was, that this was a good room, and the question was put, whether we were satisfied with this room? and it passed in the affirmative." Alternative places to meet would have been in churches, which presented awkwardness, or in the State House (Independence Hall) which was then under the control of Tories.
With the whole continent available for building, it is still not entirely clear why Colonial Philadelphia crowded itself into half a square mile, with crowded little row houses on crowded little alleys. But that's the way it was, now visible in the location of Carpenters' Hall down a little cobbled alley, in the center of a block. Elfreth's Alley gives you the same feeling, and perhaps Camac,Mole, and Latimer Streets. Carpenters' is a lovely little place, with lots of interesting features, but the main interest lies in what took place there. For that you have to read a few books.
But wait. At Ninth and Market Philadelphia had once built the White House, or at least a mansion for the President of the United States. Secret deals between James Madison and Alexander Hamilton had agreed to move the nation's capitol city to Virginia in return for nationalizing the states' Revolutionary war debts, although the circumstance which made it acceptable to the public had been the Yellow Fever epidemic. After that happened, no amount of logic or log-rolling was going to keep the government in this city. Philadelphia vainly built a very elaborate mansion for the President , but President Washington never occupied it, and it was converted to housing the University of Pennsylvania. That University eventually tore it down and replaced it with two somewhat more suitable buildings, meanwhile using the Walnut Street Theater and the Musical Fund Hall, at Ninth and Walnut and Ninth and Locust Streets respectively, for commencement exercises and the like. No one can be completely certain, but it is felt by many that 9th and Market was the general area where Benjamin Franklin had flown his famous kite. This definitely later was the site of Leary's second-hand book stall, which had the remarkable history that it was once run by a former Philadelphia mayor. Ninth and Market Street is now the site of a Post Office on one corner and a vacant lot on the other. But let imagination wander a little, and see Ben Franklin, The White House, the University of Pennsylvania, and a former mayor tending a book stall.
Notice in particular the corner of Sixth and Market, where the real White House really stood. Robert Morris once had a mansion there, which Benedict Arnold occupied for a while after he was in charge of recovering Philadelphia from the British occupation, and subsequently both Washington and then John Adams lived there, as Presidents. Unfortunately, a fire took it away around 1830, and the remains were covered with trashy commercial buildings for decades, until the Park Service built a big public restroom there, now torn down. Current public furor about this site is truly remarkable, and the ample amounts of federal money our Senator has been able to obtain from the Appropriations committee on which he sits, is probably a big factor in attracting interest. The main focus of dispute has to do with the fact that President Washington brought eight black slaves with him, and although he hastened to replace them with white indentured servants whose civil rights were probably no greater than slaves, the black slaves undoubtedly had to have lived somewhere. A search is on for the real, the true, the authentic slave quarters, as a suitable place for a public monument to their service to the country. The Park Service has a long reputation for defending scholarly standards, and its reluctance to accept archaeologically evidence of the slave quarters has brought down on their heads the furious response of the black community and the politicians seeking their favor. None of these latter groups can see any sense to quibbles about precise location of Washington's outbuildings, just put up the monument, but for a while it looked as though the scholars were determined to go down with their flags flying.
Several blocks further East, Market street comes to the brow of what was a cliff overlooking the Delaware, where the earliest settlers lived in temporary caves while they built houses. At the corner of Front and Market, from 1702 to 1883, stood the London Coffee House; during the Continental Congress, it was a place of high intrigue.The trolley lines once made a loop at the bottom of the hill at the river. Prior to that time, horse trolleys had to stop at the top of the hill at Front Street because the hill was too steep for them. At the lower level on the waterfront, there was a terminus for the ferry from New Jersey, bringing commuters, shoppers and farm produce from the Garden State. In time, a subway was built down Market Street, taking a sharp turn at the brow of the hill and heading off toward Frankford and the far northeastern parts of the city. The conjunction of the trolleys,the subway and the ferries brought throngs of shoppers, mixing with other crowds emerging from three subways at 8th Street, still others from two train stations at 13th Street, and trolleys or buses at every one of the fourteen cross streets. This fourteen block strip was surely a great place to sell dry goods. But today, with the ferry terminal gone and the trolleys vanished, it is mainly a question whether the foot of the hill at the Delaware River is destined to become a museum or an amusement park.
While he was most notable for large visions and huge projects, he also had a keen appreciation for fastidious accuracy in small matters, of which the Amity Button would be a vivid example. In the surviving Colonial buildings of Philadelphia, it is common to find a plain ivory coat button nailed to the top of the newel post of the main staircase. There's one in Independence Hall, another in the grand staircase of the Pennsylvania Hospital, and there is one in Charlie Peterson's own home, the one where he was the first Society Hill gentrification pioneer, a house originally built by Stephen Girard around 3rd and Spruce.
There is a strong tradition in Philadelphia that these strange buttons are Amity Buttons, nailed there by the Quaker builder at the moment when the new owner had fully settled his construction debt, symbolizing the amity between a willing buyer and a willing seller. Countless visitors to Society Hill have been shown these curious buttons, and it always seems to produce a warm glow of appreciation for the discovery. If you have one of these in your own house, you can be very proud.
Unfortunately, Charlie Peterson couldn't find any evidence for the truth of this fable, and you can be sure he subjected the matter to a totally dedicated search. You might think there would be some notations in the deeds, or in the correspondence of the day, or in the literature of the times. You would think that someone who repeats this tale would be able to relate where he got it, and that would lead to some letters in an attic, and that if you work hard enough, you will find it. But when the button matter came up, Mr. Peterson would suddenly become grim-lipped and sad, and repeat the mantra that there is no evidence to support the story. He even awarded prizes to architectural students for essays on newel posts, bannisters and stair rails, but no student essay ever turned up any authentication of the Amity Button story. Absence of evidence is of course not the same as evidence of absence, so it is remotely possible that the story will some day be vindicated.
Indeed, you have to believe there was something or other to start the story. Victor Failmetzger and his wife, who have a notable reputation for authenticating old house parts, relate that in Colonial Virginia it was common to have hollow newel posts on the stairway, and occasionally to find the deed to the house secreted in one of them. So the search goes on.
In fact, it always seemed likely that Charles Peterson very much wanted to believe the fable was true. But until some evidence turned up, he was going to go to his grave with the declaration that there existed no evidence for it.
O

ne of the functions for America's first hospital was proposed by Benjamin Franklin and Thomas Bond to be the humane treatment of Lunaticks, who would otherwise be wandering the streets of Philadelphia. Nearly three hundred years later, it is possible to look back on the topic, and see an uncertain history.

Essentially, the pendulum swings between a humane goal of bringing these poor victims inside, out of the weather, on the one hand, and getting them out of those snake pits so they can enjoy the benefits of being part of the community, on the other. Every couple of decades, the disadvantages of one approach attract attention, and public opinion demands the opposite. Even the era of effective treatment, which began with Thorazine in 1960, has not relieved the central difficulty, because these people often or usually rebel and stop taking their pills; it is not clear that forcing them to take pills is any greater denial of liberty than forcing them to live in a small room. In 2006 and for the prior five years, a grizzly , disheveled old man who talks to himself has pulled old cardboard around him and slept on the steam grate across the street from the Pennsylvania Hospital. Occasionally, someone summons a passing patrol car which sometimes does and sometimes does not, haul him away.

In March, 1765, a remarkably neat and tidy sailor was admitted to the Hospital as insane, and was kept among the other insane patients in the basement rooms. He wandered out, however, and was chased around until he took refuge in the glass cupola that still adorns the roof of the East wing, facing Eighth Street. It was obvious that he would soon have to come down to eat, but the Quakers who ran the hospital at that time would have none of it; they didn't starve their patients. So a mattress was passed up to him, and regular meals. Nothing much could be done about the cold, which must have been pretty severe, but the patient was allowed to remain in the cupola until 1774, when he died. Nine years of room service in the cupola.

In 1790, the wife of Stephen Girard, the richest man in America, became insane and was admitted. The hospital felt she could go home in a couple of months, but her husband insisted that she stay. She died there, twenty-five years later. At today's rates, comparatively few people could afford that approach, even if the ethical issues could be settled. However, for over a century a great many people were essentially domiciled in the chronic psychiatric unit at Market and 44th Streets

For fifty years after that, a sub acute psychiatric unit was maintained at 49th and Market, but ultimately the Federal Government found a smokescreen of confusion, sufficient to hide the awkward political backlash. One by one, the huge human warehouses at Byberry, Philadelphia General Hospital, Bellevue in New York and similar places, went out of business. The public wouldn't stand for "snake pits", even Medicare couldn't afford to put millions of insane people into luxury hotels like 49th and Market. And even though there were a few hundred or even a few thousand families that could afford to pay for humane domiciliary care, they had to be sacrificed. A government medical system, essentially run as a political pork barrel, can not afford to permit the continued existence of a visible rebuke by a two-class system.

So, now we're giving these people the benefit of integration into community life, right?
Pennsylvania Hospital
Many of the a older houses in Philadelphia still have Plaques to the front wall, usually between two windows on the second story. These are the symbols of colonial fire companies, signifying that this particular house had paid its dues to a particular company and was entitled to its services if it ever had a fire. There are two exceptions to this rule, one showing four hands gripping wrists (the fireman's "carry" technique), which was the symbol of Franklin's fire insurance company, otherwise known as the "Contributionship". The other shows a Green Tree, the symbol of a competitor fire insurance company which found a business opportunity in insuring houses with a tree on the property, something the Contributionship declined to cover. These fire insurance companies are the only survivors of a type called "perpetual" fire insurance. Since the Contributionship is the oldest fire company in America, while the Green Tree company was fairly recently involved a controversy with its directors some of the most prominent people in the City they generate highly interesting histories, as organizations.
But in many ways, the more interesting feature about them is their unique business plan, which contains some important lessons for the rest of the insurance industry, particularly health insurance. Since health insurance is now one of the great unsolved problems of national life, it is perhaps worth a little trouble to understand perpetual insurance as a concept. It isn't that hard, so stick with it.
A fire insurance company has to figure out each year's risk of fires, and set a premium large enough to pay for that risk, but not so large as to drive away business. If there's some unspent money left over at the end of the year, that profit belongs to the company. When Ben Franklin was starting the first fire insurance, he had no way of guessing what the risk was going to be, so he guessed far on the high side. So as to keep from scaring away his customers, the agreement was that any surplus would be applied to following years, invested in the meantime. After a while, the investment income was enough to pay for the fires, plus enough to pay a dividend, and to return the whole investment if the home-owner wanted to move to another house. Here was perpetual fire insurance. A returnable, lump-sum investment paid for the fire insurance, paid a nice dividend, and you got your money back if you wanted it. Its most extreme example was the policy taken out by thePennsylvania Hospital during colonial times, which still pays about 15,000 annual dividend, plus they have had fire insurance for two centuries from an investment which seems trivial in retrospect. Why doesn't everyone have perpetual fire insurance? Why is it now a quaint little forgotten idea that almost no one knows about?
the 1929 crash
There are conspiracy theories, of course, that greedy insurance companies prefer to sell you a more expensive product that is more profitable for them; forget that line of argument. A more plausible criticism is that the managers of perpetual insurance have to take a long-term view of risk. The perpetual companies are reluctant to insure a house that has any significant chance of having a fire, ever. Philadelphia long ago prohibited wooden structures, however, and the building codes have become progressively more strict. Another source of customer reluctance grew out of the 1929 crash, which destroyed for generations the confidence of the public, and for that matter the board of directors, in the safety of long term investments. If the investments become too timid, they will generate a reduced return, and inflation of the cost of replacing a burned-down building may slowly pull ahead of the investment income which is supposed to cover it. The tax laws will inevitably change over a period of time which describes itself as perpetual, and somehow or other the investment safety may become impaired by politics.
A more subtle risk is inherent in the nature of building materials. If you have a stone house, you expect to have your fire insurance restore you to a stone house. But houses were built of stone when stone was locally abundant, and cheap. Nowadays, it gets harder and more expensive to find and transport suitable stone, and much harder to find a skilled stone mason. One of the reasons you hire an architect is to direct you to the newer, more modern materials and techniques, and away from obsolete, expensive materials of the past. In summary, therefore, the managers of the company must establish a set of predictions about the perpetual risk of your house burning down, and the perpetual cost of replacing it. If they guess too low, the money you invested will eventually run out, and you will be left with a perpetual promise, but no money in the treasury to pay for it. All of this woeful, fearful whimpering, however, must be set against a two hundred year history of a simply glorious investment opportunity. You have to trust your company to be smart and to be honest. Who trusts anyone, any more?
South East Prospect of Pennsylvania Hospital
There is a painting of the region around 8th and Spruce Streets in the 1750s, depicting a pasture, with cows, and three or four buildings between 8th and 13th Streets. When the Pennsylvania Hospital moved there in 1755 from its temporary location in a house located a block from Independence Hall, there were complaints that it was now located so far out in the woods that it was difficult and dangerous to go there. Still another description of the area is evoked by the provision which the Penn family placed in the deed of gift of the land, strictly forbidding the use of the land as a tannery. Tanneries have always been notorious for giving off noxious odors, so most people wanted them to be somewhere else, anywhere else. In any event, the main activity of Penn's "green country town" at that time was concentrated closer to the Delaware River, and the nation's first hospital was definitely placed in the outskirts. Two blocks further West the almshouse was already in place, but not much else. We are told that Benjamin Franklin had flown his Famous Kite at 9th and Chestnut, using a barn there to store his materials. It might be recalled that the population of Philadelphia, although the second largest English-speaking city in the world, was only about twenty-five thousand inhabitants at the time of the Revolution, and in 1751 was even smaller.
In any event, the first and oldest hospital in America was built on 8th Street between Spruce and Pine, and the Eighteenth Century buildings on Pine Street still present a breathtaking view at any season, but particularly in May when the azaleas are in bloom, and fragrance from the flowering magnolias fills the evening atmosphere for blocks around. Although some people today mistake the Pennsylvania Hospital for a state hospital, it was founded in the reign of George II, decades before there was such a thing as a State of Pennsylvania. The Cornerstone was laid by Benjamin Franklin, with full Masonic rites. Most doctors regard a hospital as a mere workshop, but the affection with which many Pennsylvania physicians regarded their special hospital is indicated by the number who have requested that their ashes be buried in the garden.
For two hundred years, beginning with the first American resident physician Jacob Ehrenzeller, the interns and residents were paid no salary, so they had to live on the grounds. An Interne was just that, interned within the four walls for at least two years. Because the resident physicians had no money, they stayed in the hospital at night and on weekends, playing cards and swapping stories. The hospital was home for them, as it was for the student nurses, likewise unpaid but more strictly confined and supervised. This penury seemed acceptable because the patients were mostly charity ward patients, otherwise unable to pay for their own care. Ehrenzeller finished his medical apprenticeship and went to practice for many decades in the farm country of Chester County, but gradually upper-class Philadelphia moved from 4th Street westward to and beyond the hospital, and two of the richest men in American history, Morris and Biddle, had houses within a block of the hospital, although Morris never lived in his house, having more pressing matters in debtor's prison. Therefore, later resident physicians at the hospital had the potential of setting up private practice in the area and becoming society doctors as well as academically prominent ones. Being a charity hospital in a rich neighborhood created the potential for volunteer work by the town aristocrats, and large bequests for charity. The British housed their wounded in the hospital during the Revolutionary War, and shot deserters against the red brick wall of the small cemetery to the north. A century later, there were a couple dozen rooms for private patients in the hospital for the convenience of the doctors and the neighbors, but everyone else was a charity patient. And a century after that, the hospital still did not have an accounting department to collect bills, and tended to regard people who asked for a bill as a nuisance. Benjamin Franklin is regarded as the Founder of the hospital, and his autobiography famously describes how he fast-talked the legislature into matching the donations of the public, not mentioning to them that he had already collected enough promises to see the project through. This seems in character; Franklin's biographer Edmond Morgan summed up that,"Franklin doesn't tell us everything, but what he does tell us, is straight." The idea for the hospital was that of Dr. Thomas Bond, whose house is now a bed and breakfast on Second Street, , but it was characteristic of Franklin to be the secretary of the first board of managers of the hospital. In Quaker tradition, the clerk of a meeting is the person who really runs the show. It thus comes about that the minutes of the founding board were recorded in Franklin's own handwriting, among them the purpose of the institution, which is to care for the Sick Poor, and if there is room, for Those Who can pay. This tradition and this method of operation continued until the advent in 1965 of Medicare, when charity care was displaced by concepts which the nation had decided were better. The Pennsylvania Hospital was not only the first hospital, but for many decades it was the only hospital in America. Its traditions, sometimes quaint and sometimes glorious, cast a long shadow on American medicine.
---
REFERENCES
---
| | |
| --- | --- |
| America's First Hospital: The Pennsylvania Hospital 1751-1841 William Henry Williams Ph.D. ISBN-10: 0910702020 | Amazon |
General Howe
The British under General Howe occupied Philadelphia for a little more than six months, withdrawing at the end of May 1778. Washington and his starving troops were shivering in the miserable encampment at Valley Forge that winter, and it is easy to imagine the British encircling, besieging or storming the encampment to put an end to the war then and there. Instead, Howe settled down in the enemy capital and had a merry time of it. Historians differ about the reasons for this puzzling behavior. On the one hand, Howe never did any campaigning in the winter if he could help it, somehow feeling that gentlemen soldiers had a right to revel, just as school children now feel they have a right to loaf in the summer. Perhaps there were practical military reasons to avoid winter campaigns, as well. However, it is also true that Howe had shown whig sympathies in the past, and very likely did feel that conciliation with the colonists was not only a possible but the best possible outcome of the dispute. If that was his idea, he was listening too much to the rich Tories in Philadelphia and not enough to the scowling artisan class, or to the solemn-faced Quakers. All winter long, the British soldiers reveled in theatricals and parties, apparently oblivious to the starvation nearby, or the appalled reactions of the sober Quakers to music, dancing, and ornamental dress. If Howe had any purpose to bedazzle the populace, he could not have put a better man in charge than his Lieutenant-General Major John Andre, whose thumb-in-your-eye attitude was defiantly underlined by his taking up Benjamin Franklin's own house as his pied a terre.
Major John Andre
Andre certainly cut a fine figure. It would be hard to say whether John Burgoyne or John Andre was the most dashing man in England, but it was surely one or the other. They both wrote plays and poetry of professional quality, designed costumes and scenery, and organized one extravaganza after another. They were both handsome in the eyes of ladies, and fearless soldiers in the eyes of men. Anything you can do, I can do better.
About the time Howe was replaced by General Henry Clinton and recalled to England, the position in Philadelphia began to look dangerous for the British. The French signed an alliance with the American Revolutionists earlier that spring, and the concern became a real one that the French fleet might blockade the mouth of the Delaware and trap the British Army, stranded a hundred miles upriver from its own Navy. When Andre learned they were leaving, he saw they needed to have a celebration that would be remembered.
Benedict Arnold
Even today, the day-and-night revelry is indeed remembered. Andre wrote a detailed description for his local girlfriend Peggy Chew (the daughter of Pennsylvania's Chief Justice) that is really something to read. Made all the more pointed with our present hindsight that Peggy Chew was the best friend of the Peggy Shippen who married Benedict Arnold, the letter gives the celebration a made-up name, Meschianza. Sometimes spelled Mischianza, the derivation is loosely connected to the Italian word for Medley. It began with a regatta of costumed soldiers and local ladies on barges sailing slowly down the river accompanied by cannon fire, singing and music. The main events of the week took place on the South Philadelphia plantation of Joseph Wharton, now called 5th and Wharton Streets. Horsemen of the British Army put on a Medieval tournament with jousting and whatever, dressed in white and pink satin, and hats of pink silk with white feathers on the brim. There were fireworks at night, and banquets. Good wine, toasts, and laughter to witty remarks. The final high point was a fancy dress ball. Wow.
And then, the British moved across the river to New Jersey, and were gone.
---
REFERENCES
---
| | |
| --- | --- |
| Treacherous Beauty: Peggy Shippen, the Woman behind Benedict Arnold's Plot to Betray America: Mark Jacob:978-0762773886 | Amazon |
Fanny Kemble (Sully)
Frances Anne Kemble, universally known at Fanny, was just about the most magnificent Philadelphia woman of the Nineteenth Century. She spent much of her time abroad and others claimed her, but she was ours. Coming from a famous English theater family, the niece of Mrs. Siddons and the daughter of the founder of Covent Gardens, she quickly rescued the failing family fortunes by becoming the most striking Shakespearean ingenue of the time. It took very little time for her to know Lord Byron, Thackeray, and various other luminaries of the literary and artistic world of Europe, along with Queen Victoria. One might as well say she knew everybody, unless one made the point that everyone knew her.
Pierce Butler
On a theatrical grand tour of America she met and married the Philadelphian Pierce Butler, one of the richest bachelors in the nation, heir to huge estates in Georgia. She had plenty of other choices, including the most dashing and romantic devil of the century, Trelawny. That glamorous friend of Byron's had been the one to drag Percy Shelley's body from the ocean, and was surely the greatest heart throb of the century. Toward the end of her life, Fanny demonstrated the range of her appeal by totally subjugating the intellectual novelist Henry James, who was 34 years younger than she was. Her portraits by Sully now hang in the Pennsylvania Academy of the Fine Arts and in the Rosenbach Museum. Although Sully was said to have glamorized her a bit, her movie star qualities are evident. But appearance alone could not have mesmerized Henry James, known in literary circles as The Master. She was evidently one of those powerfully self-assured personalities encountered from time to time, who dominates every conversation, fills every room she enters, inspiring admiration rather than jealousy. As a youth she was enchanting, as a mature woman, magnificent. Henry James described her as having "an incomparable abundance of being."
But this was not just another Cleopatra. Fanny Kemble had two personal achievements of enduring note. Because of health limitations, she went beyond being a Shakespearean actress to inventing a style of public reading of Shakespeare, taking all the parts herself. She and Dr. Samuel Johnson were the two successive forces transforming Shakespeare's reputation from quaint playwright of the past into the permanent towering figure of the English language.
Her other achievement destroyed her private life. As the wife of the owner of a thousand slaves, she led the attack on slavery before the Civil War. During the War, her passionate defense of emancipation was a main factor in persuading the British Government to refuse badly needed loans to the Confederacy. However, the publication of her journals was the last straw in a tumultuous marriage, and Pierce Butler divorced her, taking custody of their daughters, exiling her to England. Southern plantation owners were always short of cash, and realistically one has to acknowledge the strain of demanding to emancipate a thousand slaves, each one worth a thousand dollars. In one of the supreme ironies of a tragic situation, the forced sale of the slaves compelled the Butlers to liquidate an asset just before it was going to be destroyed by wartime events. Butler died in 1863, but she had done him a financial favor.
Fanny's daughter married Dr. Caspar Wistar, of Grumblethorpe and the grounds of present LaSalle College. Her grandson was Owen Wister, the college roommate of Teddy Roosevelt, later the author of The Virginian. Famous for the phrase "If you say that to me, smile", Owen Wister and his roommate created the fable of the romantic cowboy which still dominates movies and fiction, and, from time to time, the Presidency of the United States.
Spirit of '76
Although the origins of the American Revolution are subtle and complex, even historically controversial, we have more or less united in the idea that we "declared" our independence from Britain on July 4, 1776. We then spent eight years convincing the British we were serious, and have been independent ever since. Reflect, however, on the fact that fighting had been going on for a year in Massachusetts, and that Lord Howe's fleet had set sail a month before the Declaration, actually landing on Staten Island at just about the same time as the Fourth of July. Add to that the fact that only John Hancock actually signed the document on July 4th, and some of the signers waited until September. You can sort of see why John Adams never got over the idea that Thomas Jeffersonhad quite a nerve implying the whole thing was his idea. What's more, New England subsequently had to live with a President from Virginia for thirty-two of the first thirty-six years of the new nation. Philadelphia may have been the cradle of Independence, but that was not because it was a colony hot for war, dragging the others along with it. It was the largest city in the colonies, centrally located. It had a strong pacifist tradition, and it had the most to lose from a pillaging enemy war machine.
New England was in the position of having started hostilities, and about to be subdued by overwhelming force. The Canadians were not going to come to their aid, because they were French, and Catholic, and enough said. What the New Englanders wanted was WASP allies, stretching for two thousand miles to the South. By far the largest colony was Virginia, which included what is now Kentucky and West Virginia; it even had some legal claims for vastly larger territory. The rest of the English colonies had plenty of assorted grievances against George III, and almost all of them could see that America was rapidly outgrowing the dependency on the British homeland, without any sign that Parliament was ever going to surrender home rule to them. Perhaps it was unfortunate that New Englanders were so impulsive, but it looked as though a confrontation with the Crown was inevitably coming, and without support, New England was likely to be subdued like Carthage.
And then, the last hope for flattery and diplomacy, for guile and subtlety, stepped off the boat.Benjamin Franklin, our fabulous man in London, had it "up to here" with the British ministry. He finally was saying what others had been thinking. It was now, or never.
Free Quaker Meeting House
In their 1956 book "Philadelphia Scapple", Harold Donaldson Eberlein and Mrs. Henry Cadwalader give an interesting description of the evolution of the term "North of Market". In the early days of the city, almost all of the town was South of Market Street. In fact, an early 18th Century visitor once wrote that he always brought a fowling piece when he visited Philadelphia, because the duck hunting was so good at the pond located at what is now 5th and Market.
When the Quaker meeting house was built at 4th and Arch Streets, many of the more important Quaker families thought it was important to build their houses nearby. In that way, Arch Street developed the reputation of being a Quaker Street. So the original meaning of the North of Market term was the Quaker ghetto. Quaker families continued to spread West along Arch Street or nearby, and this accounts for the location of the Friends Center at 15th and Cherry and related local activities. When the Free Quaker were evicted from the meeting at 4th and Arch because of their activities during the Revolution, they built their own meeting at -- 5th and Arch.
Chinese wall
During the Civil War, a number of people made fortunes that socially upscale people over in the Rittenhouse Square area considered disreputable, so elaborate but ostracized mansions marched due North up Broad Street, where they can still be observed as stranded whales in the slums, leaders without followers. The show houses of manufacturers of shoddy war goods soon gave the meaning of parvenu to the term North of Market.
And then, the Pennsylvania Railroad ran an elevated brick structure from 30th Street to City Hall Plaza, the so-called Chinese Wall. For nearly a century this ugly looming structure on Pennsylvania Boulevard, now John Kennedy Boulevard, with its smoky engines above, and dark dripping tunnels at street level, sliced the town in half and made it very unattractive to build or to live, North of Market. The Spring Garden area had some pretty large and expensive houses, but it was cut off by the railroad trestle, and has only recently started to revive. It helped a lot to tear down the Chinese Wall, but that was fifty years ago, and the area has taken a long time to recover from the earlier diversion of social flow to the South of it. And, psychologically, North of Market will take even longer to recover from the implication of -- industrial slum.
center
Meanwhile, of course, Oriental immigration settled along Arch Street at 9th to 12th Streets, and we now have our Chinatown there, complete with street signs in oriental lettering. In effect, we have a real Chinese Wall, a social one. Just what will happen to this group is unclear, since it is readily observable that they like to cluster together, unlike the East Indian immigrants, who head for the suburbs as fast as they can. Since the Chinese colony is physically blocked on all sides by the Vine Street Expressway, the Convention Center, and the Ben Franklin Bridge, it is hard to know where they will flow if the group gets much larger. The depressed Vine Street crosstown expressway makes a definitive border for downtown, and the contrast between the two sides of this expressway is striking. On one side is Camelot, and on the other side almost nothing is being built. The future of North of Market, at the moment, is a little unclear.
Statue of Diana
The brown stone house at 1710 Spruce Street is seemingly not remarkable, it's just an Edwardian house now converted to lawyers' offices on the first floor. But it's nevertheless a landmark, curiously linked to that 13-foot statue of Diana which dominates the top of the main interior staircase of the Philadelphia Museum of Art. Many Philadelphia gossips believe the model for the statue was Evelyn Nesbit, who lived in the brownstone on Spruce Street. But she was born in 1884, whereas Augustus Saint-Gaudens created the statue for the 1892 Columbian Exhibition . Since Evelyn was only eight years old at that time, however, it must have been some other woman who took off her clothes to pose for the sculpture; for us it doesn't matter who she was. The statue was moved to the top of Madison Square Garden when that structure was really still located on New York's Madison Square, but when the Garden was demolished in 1925 the Diana statue came to Philadelphia. Madison Square Garden itself has moved twice in the meantime and is mostly associated in the public mind with prize fights and political conventions. However, when the first Garden was built, it had theaters and roof-top restaurants, and its spectacular nature instantly made the architect, Stanford White, the most famous architect in New York, eventually maybe the most famous one in the world at the time.
Thaw
Meanwhile, two residents of Pittsburgh independently came to New York where the action is, the iron and coal millionaire Harry K. Thaw, and an impoverished teenager named Evelyn Nesbit. Evelyn was accompanied by her mother who, recognizing the girl's extraordinary beauty, set about to steer her to fame and fortune. At the age of thirteen she was posing for artists, and in time became the favorite model for Charles Dana Gibson. Gibson created the "Gibson Girl", an idealized role model for millions of women who dressed the way she did, wore their hair the way she did, and behaved in the proper Edwardian style they imagined she did, too. It was in Gibson's studio that she encountered Stanford White. Evelyn had another life, however, as a "Florodora Girl", and one of her many stage-door Johnies was Harry K. Thaw, the millionaire. Thaw was no saint, having a reputation for using a dog whip on his numerous lady friends, but it is uncertain whether he was completely aware that
Evelyn Nesbit
Evelyn was one of the principle entertainers in half a dozen hide-aways that Stanford White is said to have established for naughty parties to amuse New York's fast set. Thaw was certainly aware that Stanford White had been Evelyn's boyfriend before Thaw married her, and the two men cordially hated each other. One evening, some provocation made Thaw walk over to White's table in the rooftop restaurant of Madison Square Garden, and shoot him dead -- in front of hundreds of people. It's a curious sidelight that Stanford White was carrying a train reservation to Philadelphia, to discuss plans for the domed structure of the Girard Bank building. The notoriety of the murder trial was the sensation of the decade, with the prosecutor remarking that White deserved what he got, and Thaw's mother offering Evelyn a million dollars if she would give testimony supporting a plea of insanity. Everyone seems agreed that the money was never paid, although the jury was surely as impressed as the newspaper reporters with Evelyn's refusal on the witness stand to testify against her husband, quite evidently a sign of loyalty. Anyway, the jury let him off, and a famous cartoon depicted Stanford White in the pose of the statue of Diana.
Joan Collins as Evelyn Nesbit "The Girl in the Red Velvet Swing"
Evelyn sort of dropped out of sight after the trial and the subsequent divorce, until TV interviews were conducted for the movie about the episode, "The Girl in the Red Velvet Swing". By 1957, Evelyn was decidedly less of a beauty. Meanwhile, Harry K. Thaw had continued to live in the brownstone house in Philadelphia, where once he got sick and called a friend of mine to be his doctor, and eventually another famous professor to be a consultant. When the butler answered the door, the consultant told the butler to tell his employer that he must insist on cash in advance, an action that thoroughly embarrassed my friend in view of the famous wealth of the client. But the consultant had rightly assessed the situation, since later Thaw's lawyer called up and told the family doctor he was sorry but his client was not going to pay his bill, since the medicine was stated by some botanical book to be a poison in excess quantity. In consternation, my friend called up the professor and asked what to do. "Chalk it up to experience," was the answer. "But what have I learned?" The consultant paused, and said, "Maybe you have learned to extend credit only to decent people."
Silas Weir Mitchell
There are only a half-dozen wooden houses in Philadelphia, a consequence of laws passed after a disastrous colonial firestorm. Silas Weir Mitchell wrote a novel called "The Red City", referring to all the red brick houses in Philadelphia, particularly those along the bank of the Delaware River, greeting visitors arriving by sail. People who know about these things say only Dublin, Ireland has more redbrick colonial and Federalist houses still standing. You have to care about these things to preserve them; recently I heard that New Brunswick in New Jersey had a very large patch of Eighteenth Century and Federalist houses still standing fifty years ago. No one seemed to care, so they crumbled.
Charles Peterson
But Charlie Peterson cared, and Judge Edwin O. Lewis cared, too. Peterson and Lewis are now gone, but these two were the idea men behind the historical restoration of Philadelphia, for which Mayor Dilworth and Senator Joe Clark generally get most credit. The Edwin O. Lewis fountain was recently torn down to make room for a gigantic visitors center, sic transit gloria mundi, but he alone had the force of personality, wit, imagination and drive to make Peterson's vision come to pass.
The Adams Manison
You are expected to be self-effacing if you work for the Park Service, but Charlie had a way of winning arguments and bringing people around to his visions. He thinks big. Back in the days when the Park Service was strictly a management team for the National Parks in the West, Charlie persuaded the service that if they developed some parks in the Eastern part of the country, there might be more congressmen willing to vote funds for their projects. And that, in essence, was the driving slogan of the restoration of Williamsburg, Virginia, and the Skyline Drive . Lots of very rich people joined into these celebrations of the past, but it was Charlie who gave them the courage to hold their cultural opinions. And that was particularly true of the midwesterners with French names living in midwestern states with French names, mostly unaware until he told them so, that it was the French coming down from Canada that opened up that region long before Lewis and Clark set out.
Charlie had an interesting time making the Adams Farmhouse in Quincy Mass . into a part of the national heritage; it's now the Adams Mansion. But it is Society Hill of Philadelphia that collectively got up off its unimaginative back, meanwhile becoming a national monument, and a silent monument to Charlie Peterson. In the Quaker view, the worship of buildings is idolatry. If you go to the right place and knock on the right door, you will find that Charlie had the imagination to take all that junk out of the dumpster, work out the provenance, label, and display exhibits of the architectural history of the area, starting a whole industry of house restorers who now have a template against which to match their un-provenanced dumpster relics. Who but Charlie would have held cocktail receptions to look at the salvaged crockery found in old Philadelphia privies, and even though thoroughly washed up, had the combination of quiet wit and brazenness to make the events a rollicking success. The Architectural Fragments Museum is something you are sure to talk about if you know enough to visit it, and providing they will let you in...
No doubt the museum of shutters, nails and doorknobs had its origin in his mind as a result of creating HABS , the Historic American Building Survey, in Washington thirty years earlier. The first and largest of its kind, this collection of photographs and measured drawings of practically every building in America with historical significance was started by him in 1933 with WPA money and unemployed architectural talent in the great economic depression of that time. It's worth a visit if they will let you in, which is not guaranteed, either. Put that name down: Charles E. Peterson, the father of American architectural preservation and restoration.
Washington Square
Although he spent a lot of time in Rittenhouse Square in Philadelphia, Henry James wrote about Washington Square in New York. It was Christopher Morley who wrote about Washington Square in Philadelphia. The best short essay about Philadelphia's Square is found in this link.
The subject of Washington Square includes an interesting variety of topics, including the Walnut Street Prison, famous balloon rides, the Athenaeum, Penn Mutual Life Insurance, Curtis Publishing Company, N. W. Ayer, Harry Batten, Lea and Febiger, Lippincott Publishing, Saunders, Orange Street, the St. James Apartment House, Richardson Dilworth, the Farm Journal the old PSFS building, and the Maxfield Parrish mosaic.
---
REFERENCES
---
| | |
| --- | --- |
| Philadelphia Washington Square: Images of America, Bill Double, ISBN-10: 0738565504 | Amazon |
Henry Wadsworth Longfellow
Since American relations with France are a little strained at the moment, it may not be completely welcome to hear it said that Philadelphia food is Creole. The reference is not to the several downtown French restaurants of outstanding quality, but to the two episodes when Philadelphia experienced waves of French immigration. The first of these was during the French and Indian War, when the Acadian French ("Cajun") were driven out of Nova Scotia, largely went to Louisiana and then were allowed to return. A lot of them stopped off in Philadelphia both going and coming. Henry Wadsworth Longfellow depicted, in his poem Evangeline, the tearful reunion of Evangeline and Gabriel in the hospital. And since, for sixty years the Pennsylvania Hospital was the only hospital in the country, Longfellow had to put them here.
The second wave of French immigration was provoked by the guillotine in Paris, and the black revolution in French Haiti. Most people today are unaware that Talleyrand lived here, and LaRochefoucauld. The Duke of Orleans, future king of France, lived at 4th and Locust Streets, proposed to a (rich) Philadelphia lady, and was rejected by her father ("Sir, if you do not become king of France, you will be no match for her, and if you do become king, she will be no match for you.") Napoleon's brother Joseph lived at 9th and Spruce, and one of his marshals lived at 6th and Spruce. Really. Tallyrand had a deformed foot, and this somehow made him pals with Governor Morris who had a wooden leg. This friendship was part of the reason the Louisiana Purchase was possible, because they shared the favors of the same French lady, and had frequent occasion to meet. Both Franklin and Jefferson were ambassadors to France, it may be remembered, and for a while Jefferson was quite a fan of the French Revolution, although the treatment of LaFayette by the French Revolutionaries did not exactly encourage that. The French treated Franklin like a God, but then so did Mozart and the King of England, and Franklin harbored many bitter memories of the French and Indian War all the while he was romancing the French into bankruptcy to pay for our revolution. The French refugees from Haiti brought Yellow Fever with them, and Dengue too, thus definitively terminating Philadelphia's hope of remaining the permanent capitol of the nation.
It was during this Francophone period that Philadelphia cuisine acquired some characteristics which allow some food historians to call it Creole. Philadelphia Pepper Pot soup, for example, substituted tripe for terrapin. Those who know about these things say that many dishes now thought to be distinctly Philadelphian in fact had a French origin.
Elthreths Alley
The north side of Dock Creek (now, Dock Street) was lower than Society Hill side, and somewhat swampy. The tendency to flood caused the north side to have smaller and less permanent buildings, and so it became the Colonial waterfront area remaining more commercial, and in parts, shabby, even during the 19th Century.. Still further to the north this was not the case, but the waterfront and food market patch more or less marooned Christ Church, now the single most graceful and elegant Colonial building still standing. This formerly commercial area is now called Old City, with many loft apartments mixed among surviving warehouse outlets, and of course the ethnic restaurants characteristic of such gentrified areas.
Christ Church
Elfreth's Alley, running for one block east and west between Second and Front (1st) Streets. Some of the history of this street is obscure, so some of it is probably synthetic, because nothing particularly historic happened there to create detailed records. Elfreth's Alley claims to be the oldest street in America, a claim that can be substantiated back to 1702. The street is filled with little "workers houses", presenting a solid front of buildings on both sides of the cobblestoned street. Most of the houses could vaguely be called "father, son and holy ghost houses", looking as though they consisted of three rooms on top of each other, although in fact most of them are larger. A moment's consideration shows that the street consists of many double houses, with three doorways in front. Each house had a door to the interior, and most of them have a third door opening to a shared tunnel between the two houses, leading to the back yards. These tunnels were called "easements", a term that has migrated from its earlier usage. Although William Penn envisioned large single estates in his "Greene country Towne", he sold considerable land to people who remained in England as absentee landlords, who soon found that many small houses produced more rent than one or two big ones. One of the houses on Elfreth's Alley acts as a museum, with tours; there is an active civic association, and once a year in June there is a street fair.
Because the land was swampy and the neighborhood congested, Christ Church soon outgrew its backyard burial ground, and burying important people under slabs in the walkways and corridors. Visitors who do not come from that sort of religious background are typically uncomfortable walking over such graves, a quite common arrangement in European cathedrals. But eventually, it was necessary to go several blocks westward to create a "new" burial ground. Most of the famous names from the Revolutionary era, like Benjamin Franklin and four other signers of the Declaration of Independence are found on the tombstones at Fifth and Arch, just across the street from the Free Quaker meeting house, and opposite the Philadelphia Mint. On the remaining corner of Fifth and Arch is the Constitution Center which will open July 4, 2003. It can already be seen that its architecture clashes with the rest of the historic area, but it is fervently hoped that its programs will redeem it.
---
REFERENCES
---
| | |
| --- | --- |
| Society Hill and Old City, Image of America: Robert Morris Skaler | Amazon |
Nicholas Biddle
In 1823, the Biddles were prosperous, having made money in real estate (a Biddle ancestor had been a member of the Proprietors), and influential, having been Free Quakers who sided with the Revolution. So, Nicholas Biddle became the president of the Second Bank at 4th and Chestnut. Like all banks, he was given the ability to create money through taking deposits and loaning them out. Since in this process, two people (the depositor and the borrower) think they have the same money, there is effectively twice as much of it -- unless both actually demand it at the same time. If a bank has Federal revenues on deposit, as Biddle did, it is fairly easy for a politically active banker to predict whether that large depositor is likely to withdraw it. Political deposits seemingly make a bank stronger and safer, unless the banker has a fight with a politician. That's banking, but Biddle also became a central banker.
Biddle had ideas, derived in part from Alexander Hamilton. In those days, banks issued their own paper currency, or bank notes, representing the gold in their vaults or the real estate on which they held mortgages. There was a risk in one bank accepting bank notes from another bank that might go bust before you changed their notes into gold. The further away the issuing bank was, the riskier it was to rely on it. So, it was important to be a friendly sort of banker, who knew a lot of other bankers who would accept your money or who were known to be trustworthy.
Nicholas Biddle himself was well known to be pretty rich, and utterly trustworthy. He had a good instinct for how much to charge or discount the banknotes from other banks, or even other states. It was quite profitable to do this, but it became even more profitable when people began to use Biddle's own bank notes because they were safe. By setting a fair standard, he could control the exchange rate -- and hence the lending limits -- of banks that dealt with him. Sometimes a distant bank would get into cash shortages, and Biddle would help them out; if the other bank had a bad reputation, he might not.
Bank of the United States
In this way, the Second Bank was a reserve bank for other banks, with its banknote currency coming close to being the currency for the whole country. Soon, within a few blocks of Biddle's Bank, there were dozens of other banks, making up the financial capital of the country. Although it was a little obscure, and even Biddle may not have completely realized what he was doing, in effect his system automatically adjusted the amount of currency in circulation to the size of the economy. If the correspondent banks prospered, they issued more currency, and if there was a recession, the country had deflation. The volatility of this system was related to the volatility of a pioneer economy, so Biddle made lots of enemies whenever he guessed about the direction of the economy. It wasn't a perfect system, but at least he kept politicians from inflating the currency to get re-elected, and hence annoyed politicians by constraining them. During the great western land rush of those days, all banks were under pressure to issue more loans than was wise, and politicians were under pressure to make them do so.
The worst enemy Biddle made was Martin Van Buren of New York. Van Buren was a consummate politician, one of whose many goals was to move the financial capital of the country from Chestnut Street--to Wall Street.
---
REFERENCES
---
| | |
| --- | --- |
| America's First Great Depression: Economic Crisis and Political Disorder after the Panic of 1837 Alasdarir Roberts ISBN-13: 978-0801450334 | Amazon |
Israel Pemberton, Ben Franklin satire l
Ralph Pemberton was an English Quaker well before 1650; he may have been a Quaker before William Penn was one. As an old man, he accompanied his son Phineas to Pennsylvania in 1682. They established a farm on the banks of the Delaware in Bucks County called Grove Place, and Phineas soon became one of the chief men in the colony. In the next generation, Israel Pemberton became one of the best educated, richest merchants in the colony. But it was Israel's son, also called Israel, who earned the title of King of the Quakers. He was one of the founding Managers of the Pennsylvania Hospital along with Benjamin Franklin and one of his brothers, James Pemberton, and was a generous philanthropist and leader of a number of other civic organizations. Just exactly what provoked his famous political disputes with Franklin is not clear, but he was a leading friend of the Indians, whom Franklin never much liked. Israel Pemberton strongly and effectively argued William Penn's policy of friendship with the Indians, particularly insisting that sales of land to colonists should be prevented until there was clear agreement with the Indians about the ownership. Unfortunately, pressures built up as Europeans immigrated faster than this policy could accommodate smoothly, and Franklin mostly sided with the impatient immigrants -- and squatters. This disagreement came to a head in 1756 when Pemberton negotiated a treaty of peace with the Indians at a conference at Easton. Although this treaty seemed to settle matters, it came against a background of the descendants of William Penn abandoning Quakerism. They however remained the proprietary owners of the Province with a more narrow focus on speeding up land sales to maximize their investment. Much of the internal dynamics of these quarrels before the Revolutionary War remain unclear and possibly somewhat misrepresented.
Shenandoah Valley
When the Revolution came, Pemberton viewed it with disfavor, mostly for pacifist rather than purely Tory reasons. Feelings ran high, since the Pembertons were influential citizens with the potential to dissuade wavering neighbors, which made it difficult to tolerate them as invisible bystanders. However that may be, the three Pemberton brothers and twenty other wealthy and influential Quakers were arrested and, without hearing or trial, thrown in the back of an oxcart and sent into exile in Virginia for eight months. Their journey was a curious one, along a trail up the Schuylkill to the ford at Pottstown, and then down the Shenandoah Valley, an area in which they were well known and highly respected, greeted with great sympathy as they traveled. Isaac's brother John, who had spent several years as a missionary, died during this exile.
John Clifford Pemberton
In some ways, the most curiously notable Pemberton was John Clifford Pemberton, who applied to West Point on his own initiative and was appointed by Andrew Jackson who had been a friend of his father. In itself it is curious that so combative a person and so vigorous an enemy of the Indians -- as Jackson certainly was -- would have Quaker friendships. But he did not misjudge John Clifford, who became a diligent professional warrior for his country in a number of military incidents with the Indians, the Mexicans, and the Canadians, rising to the rank of captain in the regular Army at the opening of the Civil War. In spite of personal efforts by General Winfield Scott to dissuade him, he resigned his commission and volunteered in the Confederate army. He was quickly promoted to major, then brigadier general and eventually to Lieutenant General. As such, he was the commanding Confederate officer at the fifty-day siege of Vicksburg where he was finally forced to surrender to Grant's army. In a prisoner exchange, he was returned to the Confederate side, which then had no openings for Lieutenant Generals. He resigned and re-enlisted as a common soldier, but was quickly promoted to the rank of Colonel, in charge of the artillery at the final siege of Richmond. After the war, he became a farmer in Warrenton, Virginia, but was visiting at the family home in Penllyn when he died in 1881. John Clifford Pemberton, the highest-ranking general on the grounds, lies buried in Laurel Hill cemetery right next to Israel Pemberton. In some sort of triumph of the South, he here out-ranks George Gordon Meade, the hero of Gettysburg. Just how his pacifist family reconciled itself to his heroism can only be imagined.
Signers
The Federalist Papers were written by three founding fathers after the Constitution had been completed and adopted by the Convention. Detecting hesitation in New York, the aim was for publication in New York newspapers to persuade that wavering State to ratify the proposal. It is natural that The Federalist was composed of arguments most persuasive to New York, putting less stress on matters of concern to other national regions. This narrow focus may explain the close cooperation of Hamilton and Madison, who must surely have suppressed some latent concerns in order to present a unified position. In view of how much emphasis the courts have placed on the original intent of almost every word in the Constitution, it seems a pity that no one has attempted to reconcile the words of the principal explanatory documents with the hostile disagreements of their two main authors, almost as soon as the Constitution came into action. Perhaps the psychological hangups would be more convincingly dissected by playwrights and poets, than historians.
John Jay wrote five of the essays, mostly concerned with foreign relations; his presence here highlights the historical likelihood that Jay might have been the one who first voiced the idea of replacing the Articles of Confederation. At least, he seems to have been first to carry the idea of a general convention for that purpose to George Washington (in a March 1786 letter). The remaining essays of The Federalist were written under the pen name of Publius by Alexander Hamilton and James Madison, both of whom had a strong enough hand in crafting the Constitution, but who quickly became absolutely dominant figures in the two central political factions after the Constitution was actually in operation. And their eagerness to be central is itself telling. They were passing from a stage of pleasing George Washington with his favorite project, into furthering a platform for launching their own emerging agendas. It is true that Madison's Federalist essays were mainly concerned with relations between the several states, while Hamilton concentrated on the powers of the various branches of government. As matters evolved, Hamilton soon displayed a sharper focus on building a powerful nation; Madison scarcely looked beyond the strategies of internal political power except to see clearly that Hamilton was going to get in the way. These two areas are not necessarily incompatible. But it is nevertheless striking that two such relentlessly driven men could work together to achieve the same set of rules for the game they were about to play so unflinchingly. Thomas Jefferson had been in France during the Constitutional Convention. It was he who was most dissatisfied with the resulting concentration of power in the Executive Branch, but Madison eagerly became the most active agent for forming the anti Federalist party, with all its hints that Washington was too senile to know the difference between a President and a King. Washington abruptly cut him off and never spoke to Madison after the drift of his opinions became undeniable. Today, it is common to slur politicians for pandering to lobbyists and special interests, but that presents only weak competition with the personal forces shaping leadership opinion, chief among them being loyalty to, and perceived disloyalty from, close political associates.
As a curious thing, both Hamilton and Madison were short and elfin, and both relied for influence heavily on their ability to influence the mind of
George Washington
George Washington, who projected the power and manner of a large formidable athlete. Washington had no strong inclination to run things and, once elected, no particular agenda except to preside in a way that would meet general approval. He had mainly wanted a new form of government so the country could defend itself, and pay its soldiers. Madison was a scholar of political history and a master manipulator of legislative bodies, while Hamilton's role was to supply practically unlimited administrative energy. Washington was good at positioning himself as the decider of everything important; somehow, everybody needed his approval. On the other hand, both Madison and Hamilton were immensely ambitious and needed Washington's approval. This system of puppy dogs bringing the Master a bone worked for a long while, and then it stopped working. Washington was very displeased.
The difference between these two short men immediately appeared in the way they chose a role to play. Madison the Virginian chose to dominate the legislative process as the leader of the largest state delegation within the
Alexander Hamilton
House of Representatives, in those days the dominant legislative chamber. Hamilton sought to be Secretary of the Treasury, in those days the largest and most powerful department of the executive branch. It's now a familiar pattern: one wanted to form policy through dominating the board of directors, while the manager wanted to run things his way, even if that led in a different direction. Both of them knew they were setting the pattern for the future, and each of them pushed his ideas as far as they would go. Essentially, this could go on until Washington roused himself.
After a short time in office, Hamilton wrote four historic papers about two general goals: a modern financial system, and a modern economy. For the first goal, he wanted a dominant national currency with a mint to produce it and a bank to control it. Second, he also wanted the country to switch from an agricultural base to a manufacturing one. You could even say he really wanted only one thing, a national switch to manufacturing, with the necessary financial apparatus to support it. Essentially, Hamilton was the first influential American to recognize the power of the Industrial Revolution which began in England at much the same time as the American Revolution. Hamilton was swept up in dreams of its potential for America, and while puzzled -- as we continue to be today -- about some of its sources, became convinced that the secrets lay in the economic theories of
David Hume
David Hume and Adam Smith in Scotland, and of Necker in France. Impetuous Hamilton saw that Time was the essence of opportunity; we quickly needed to gather the war debts of the various states into the national treasury, we quickly needed a bank to hold them, and a mint to make more money quickly as liquidity was needed. It seemed childishly obvious to an impatient Hamilton that manufacturing had a larger profit margin than agricultural products did; it was obvious, absolutely obvious, that this approach would inspire huge wealth for the new nation.
Industrial Revolution
Well, to someone like Madison who was incredulous that any gentleman would think manufacturing was a respectable way of life, what was truly obvious was that Hamilton must be grabbing control of the nation's money to put it all under his own control. He must want to be king; we had just got rid of kings. Furthermore, Hamilton was all over the place with schemes and deals; you can't trust such a person. In fact, it takes a schemer to know another schemer at sight, even when the nature of the scheme was unclear. Madison and Jefferson couldn't understand how anyone could look at the vast expanses of open continent stretching to the Pacific without recognizing in this must lie the nation's true destiny. Why would you fiddle with pots and pans when with the same effort and daring you could rule a plantation and watch it bloom? If anyone had used modern business jargon like "Win, win strategy", the Virginian might well have snorted back, "When you say that to me, friend, smile."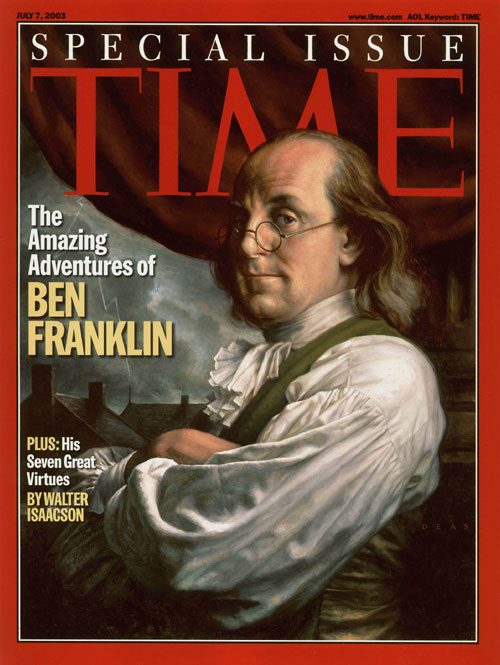 Ben Franklin on the cover of Time magazine
January 17, 1706 Born in Boston, the thirteenth child of a candle maker; only went through 2nd Grade, Apprenticed to his brother as a printer, ran away to Philadelphia age 17 .
1723 Arrived in Philadelphia penniless, readily found work as a printer.
1725-26 First trip to England. Researched printing equipment, but probably lived a riotous life.
1726-1748 Returned to Philadelphia to found his own print shop and bookstore. Wrote and printed Poor Richard's Almanack, organized local trademen into the Junto, formed partnerships with sixty printers throughout the colonies, obtained print business of local governments, became postmaster. Able to retire at the age of 42 by selling his business for 18 annual payments, which offered him comfort and ease for considerably longer than his life expectancy.
-------------------------------------------------------------------------------
1751 Helped found Pennsylvania Hospital. Entered the legislature.
1751-1757 Active in legislature, rising to leadership during the French and Indian War, Pontiac's Rebellion and the uprising of the Paxtang Boys.
1757-1762 Second time in England.
1762-1764 Returned to Pennsylvania Legislature, where his unpopular agitation for replacing the Penn Proprietors with direct Royal goverment led to his electoral defeat and the end of his elective career. The defeated but determined Quaker party sent him to England to lobby against the Penn family and for rule of Pennsylvania by the King.
1764-1775 Third British visit. Although unsuccessful in his lobbying, his fame as a scientist made him welcome among the famous members of the Enlightenment, like Hume, Adam Smith, Mozart. Meanwhile, the colonies became considerably more rebellious than he was. His blunder with the publication of some letters gave the British Ministry an opportunity to humiliate and disgrace him in public, probably as a warning to the mutinous New England leaders. It irreconcilably alienated Franklin, who sulked, then packed up and joined the Continental Cangress the day he arrived back home.
March, 1775-October, 1776 Brief but fateful return to America. Decisions were made in London to put down the colonists by as much force as necessary. Meanwhile, Franklin persuaded the Continental Congress they must declare independence from England if they expected help from the French.
July 4, 1776 Independence is declared within days after the arrival of a massive British fleet in New York harbor. Franklin dispatched to France to secure the assistance he was confident he could get.
1777-1785 France. Franklin served admirably as American ambassador, his wit and charm persuading the French to overextend themselves with ships, supplies and money, and very likely contributing to the French Revolution by popularizing the American one.
1785-1790 Returning as a national hero for his final five years of life, Franklin loaned his personal influence to the Constitution convention, became President of Pennsylvania, worked for the abolition of slavery.
April 17, 1790 Died, probably of complications associated with kidney stones.
William Penn
Freedom of religion includes the right to join some other religion than the one your father founded; William Penn's descendants had every right to become members of the Anglican church. It may even have been a wise move for them, in view of their need to maintain good relations with the British Monarch. But religious conversion cost the Penn family the automatic political allegiance of the Quakers dominating their colony. Not much has come down to us showing the Pennsylvania Quakers bitterly resenting their desertion, but it would be remarkable if at least some ardent Quakers did not feel that way. It certainly confuses history students, when they read that the Quakers of Pennsylvania were often rebellious about the rule of the Penn family.
Delaware
Such resentments probably accelerated but do not completely explain the growing restlessness between the tenants and the landlords. The terms of the Charter gave the Penns ownership of the land from the Delaware River to five degrees west of the river -- providing they could maintain order there. King Charles was happy to be freed of the expense of policing this wilderness, and to be paid for it, to be freed of obligation to Admiral Penn who greatly assisted his return to the throne, and to have a place to be rid of a large number of English dissenters. The Penns were, in effect, vassal kings of a subkingdom larger than England itself. However, they behaved in what would now be considered an entirely businesslike arrangement. They bought their land, fair and square, purchased it a second or even third time from the local Indians, and refused to permit settlement until the Indians were satisfied. They skillfully negotiated border disputes with their neighbors without resorting to armed force, while employing great skill in the English Court on behalf of the settlers on their land. They provided benign oversight of the influx of huge numbers of settlers from various regions and nations, wisely and shrewdly managing a host of petty problems with the demonstration that peace led to prosperity, and that reasonableness could cope with ignorance and violence. When revolution changed the government and all the rules, they coped with the difficulties as well as anyone in history had done, and better than most. In retrospect, most of the violent criticism they engendered at the time, seems pretty unfair.
John Penn
They wanted to sell off their land as fast as they could at a fair price. They did not seek power, and in fact surrendered the right to govern the colony to the purchasers of the first five million acres, in return for being allowed to become private citizens selling off the remaining twenty-five million. Ultimately in 1789, they were forced to accept the sacrifice price of fifteen cents an acre. Aside from a few serious mistakes at the Council of Albany by a rather young John Penn, they treated the settlers honorably and did not deserve the treatment or the epithets they received in return. The main accusation made against them was that they were only interested in selling their land. Their main defense was they were only interested in selling their land.
As time has passed, their reputation has repaired itself, and they bask in the universal gratitude which is directed to their grandfather and father, William Penn. Statues and nameplates abound. Nobody who attacked them at the time appears to have been really serious about it, except one. Except for Benjamin Franklin, who turned from being their close friend to being their bitter enemy. Franklin tried to destroy the Penns, traveled to England to do it, and after twenty years seemed just as bitter as ever. Something really bad happened between them in 1754, and neither the Penns nor Franklin has been open about what it was.
In some medical circles, it is postulated that George III was psychotic, possibly suffering from an inherited rare condition called porphyria.
Magna Carta
That's pretty conjectural, but it is certainly true that his mother egged him on to be a real king, a real force reversing that steady decline in the Monarchy's personal power which began with the Magna Carta. By the time in question, however, so much power had already gravitated into the hands of Parliament that the King could not act in any major way without their consent. Even today, Cabinet Ministers are spoken of as King's ministers, but are in fact appointed by leaders of the majority party in Parliament. Some in Parliament, like Edmund Burke, were almost persuasive in resisting the Ministry, urging colleagues to seek reconciliation with the colonies. George III did still retain power to appoint his favorites to important positions, and used this patronage extensively to control the country. Political party chieftains, on the other hand, retained and retain today the power to nominate the party candidate for Parliament in any particular district. The leadership thus selects the members of Parliament, who can in turn overturn the leadership only if they dare. Real decisions were largely in the hands of party chieftains, but perhaps to some extent the Crown, depending on the Monarch's shrewdness in distributing patronage among the party chieftains.
Across thousands of miles of dangerous ocean, the English colonies had changed from weedy wilderness in the Sixteenth century, into thriving and prosperous small civilizations in the early Eighteenth. Transatlantic communication did not substantially improve in that interval, but colonial population grew to over a million, many of them native-born in the colonies, with increasingly large numbers of immigrants from other nations. Loyalty to the Monarch inevitably declined. True, they spoke English, revered England, but many urgent local issues were difficult to administer at such a distance, encouraging a mentality of self-governance. France, by now at war with England on the Continent, operated on a grand plan of interior encirclement, from Quebec and and Great Lakes, down the Mississippi to New Orleans. The English coastal settlers needed peace with the Indians of the interior;
Benjamin Franklin
the French did not scruple to stir up massacres and Indian warfare. All wars are expensive, the French and Indian war particularly so. After defeating the French, the British were put to the protracted expense of building frontier defenses. Although the British were anxious to attract English-speaking colonists who would defend America for England, it was obvious some of the settlers were becoming very rich. Surely these people could not object to paying taxes for their own defense. In retrospect, it seems remarkably naive of the British to think it was that easy. Americans did not want to pay taxes because they did not want to pay taxes. They settled on the stance of "No taxation without representation" and like Franklin and the Penn family many really believed in it. That slogan was particularly effective after it became apparent that Parliament wasn't about to give remote colonists reciprocal power in Parliament to interfere with affairs in the British Isles. With Parliament adamantly refusing to dilute its own power, "No taxation without representation" was a neat rhetorical box which meant, "No taxation." Contemporary English historians now throw up their hands in despair that so few members of George III's government had Burke's vision or even the normal wiles of diplomacy. But that understates the hidden political agenda. Parliament just pushed ahead with fairly nominal taxes, but they did so to curtail the independence of colonial legislatures.
The Stamp Act of 1764. It could be argued that Navigation Acts nothing new; earlier versions were first passed in 1651, intended to thwart Dutch trading. They prohibited foreign trade with the British home islands. After fifty years in 1703 similar restraints were extended to trade with the colonies, particularly molasses in the Caribbean area. No outcry was made as these restraints, aimed at retaining the Britishness of British colonies, were occasionally modified and extended over the next sixty years.
Thomas Penn
After a century in 1764, however, the Stamp Act was passed, producing modest revenue but imposing a crippling set of headaches by requiring special papers to transact private business. The uproar was enormous and legitimate, focused mostly on the tangle of red tape needlessly imposed. By shifting taxation from trade to paperwork transactions, suspicions were plausible that the Ministry was scheming something obscure. The Stamp Act was hastily repealed, even before Benjamin Franklin and Thomas Penn recognized its unpopularity, and were still to some extent defending it in 1766. Franklin apparently saw the Stamp Act as an opportunity to appoint his friends as stamp agents. Local uproar in Pennsylvania was apparently orchestrated by William Bradford, who in addition to having been Franklin's former competitor in the printing business, was the owner of the London Coffee House at Front and Market. No other prominent colonial leader seems to have been involved in the agitation, and it is remotely conceivable that uproar originated with Bradford alone. More likely, Bradford was merely an opportunist in a genuinely popular uprising. With the familiar maneuvering characteristic of politicians, Franklin took popular credit for defeating the Stamp Act with some skillful criticism of it, while John Penn gained credit with the King for representing Pennsylvania's relative calm about it, compared with other colonies. In Pennsylvania at least, the uproar quickly subsided after repeal of the Act.
The Townshend Navigation Acts of 1768.In 1766 the Grenville Ministry was replaced by that of Rockingham, then soon by Pitt, who were anxious to disavow the unpopular Stamp Act, but nevertheless needed colonial revenue, and needed a few unpleasant laws to prove that Parliament could not be intimidated by colonial squawking.
Charles Townshend
Charles Townshend, the brilliant, vindictive, Chancellor of the Exchequer then proposed taxes on glass, painter's lead, paper, painter's colors, and tea. The underlying political purpose of these taxes was to provide revenue for paying British colonial administrators directly, rather than depend on the Colonial legislatures to pay them. The Legislatures had long played a game of withholding payments, sometimes even the salaries of Judges and Royal Governors, when they disapproved of projects devised in London. The very predictable uproar provoked by the Townshend Acts propelled John Dickinson into prominence with a pamphlet called Letters From a Pennsylvania Farmer, which popularized the idea of "nonimportation", essentially a boycott of British products. Unintentional nonimportation was in fact the effect of the laws, clogging the ports with paralyzed trade goods. Rather than Dickinson's lofty principles, a little-noticed act of 1764, prohibiting the printing of paper money, paralyzed trade. There simply was not enough available coinage to pay these taxes, which finally pushed the primitive transaction system beyond its capabilities. From the viewpoint of modern economics, a heavy unbalance between imports and exports could not be rebalanced by flows of capital. The disastrous Townshend Acts were mostly repealed in 1770, but the British government was getting in deeper and deeper, discrediting itself at every turn. To retreat but still save face, they repealed all the taxes except the one on tea.
The Tea Act of 1772. To a certain degree, the uproar over the face-saving tax modifications on tea was a pretext for confused but radical colonists who were spoiling for a fight about difficulties they tended to personalize. The act actually lowered the effective taxes on tea, and at first Whig radicals were hard put to find a reason for outrage about lowering the price of tea. However, Bradford and his London Coffee House cronies (Mifflin, Thomson) were imaginative, and soon stampeded a mob scene in Philadelphia, where for a time the populace had seen nothing to get worked up over. Rush and Dickinson joined the chorus; public feeling was stirred to a frenzy not easily reversed.
The really substantive issues involved were created by several years of Townshend Duties and other forms of import restriction. Laws to ensure the Britishness of British colonies created pleasant opportunities for colonial artisans and craftsmen, difficult hardships for importers. But these dislocations, whether welcome or unwelcome, firmly exposed the underlying truth that they caused all colonists to pay higher prices for goods. Adam Smith was not to publish his Wealth of Nations until 1776, so in this case the proof preceded the theory. The colonists were effectively asked to pay higher prices for everything, in order to increase Britishness and to billet soldiers they could not command. Once that cat was out of the bag, attitudes could never be the same. On the English side of the ocean, the question was framed as colonist unwillingness to contribute to the cost of their own defenses. The two slanted perceptions hardened to the point where arrogance confronted defiance, suggesting combat to both of them.
In the case of tea, taxes and import restrictions were intended to promote English tea over Dutch tea; in fact, they stimulated smuggling. Smuggling grew to a point that vast quantities of tea were stranded in the warehouses of the British East India Company, and trade balances of the British Empire were undermined. By reducing taxes, Parliament made East India tea cheaper than smuggled tea. Going perhaps one step too far, middle-men in the tea import business were cut out of the loop by appointing favored direct agents. In Philadelphia, those were Henry Drinker and Thomas Wharton. Bradford and his group immediately set about intimidating these merchants with threats to burn them out, and the sea captains who worked for them, with threats of tar and feathers. The age of Reason was leaving Reason behind.
William Allen
William Allen was once famous for his expensive carriage and team of horses, at a time when there were only eighty carriages in the colony. He was born wealthy, but personally made considerable sums in maritime trade, which in those days included a mild form of piracy called privateering. Taking his accumulated wealth, he invested heavily in colonial real estate. His urban ventures included the land under Independence Hall, and his lands in the hinterland included the present town of Easton. He was a tough businessman, providing "muscle" where needed in a colony dominated by pacifist Quakers. At one point, he imported a thousand muskets and ammunition for the use of settlers in the Lehigh Valley who had difficulties with the Indians and Connecticut invaders. Allentown is named after him.
Philadelphia Lawyer
It is difficult to apply present standards of judgment to Allen. William Penn had been given the colony on condition that he protect and maintain it. That was clearly a difficult challenge for a Quaker colony in the wilderness, surrounded by Indians, French and Spanish buccaneers, and neighboring colonies who were far from pacifist themselves. The system often amounted to giving land to subcontractors like Allen, on condition that they maintain law and order. Furthermore, Allen was quite obviously a person of parts. His credentials as Chief Justice were based on his attendance at the Inns of Court, when almost all other lawyers were trained by local apprenticeships. His father in law was Andrew Hamilton, the famous "Philadelphia lawyer" who won the landmark case for Peter Zenger and later became the leader of the Pennsylvania Assembly and mentor to young Benjamin Franklin. His land-dispute services in the negotiations with Lord Baltimore were notable. In general, he was a continuing force for peace and stability, and no one held it against him that peace and stability suited his needs as a landlord and merchant. To him, the battle for independence was just another unsettling disturbance which prevented the colony from achieving its potential.
His daughter married John Penn, the grandson of William Penn, who was the local representative of the Proprietors and later the Governor. All in all, it is not surprising that he retreated to his home on Germantown Avenue, called Mt. Airy, when revolution broke out. Unlike many other Tories who fled to Canada, he felt his past services would protect him if he remained quiet and secluded until the war was over. He didn't quite make it, dying in his mansion, in 1780.
Jordan Meetinghouse
The name Penn seems to be derived from the Welsh name for hill; hills are abundant in Wales. There is reason to suppose the family was of royal descent. William's birthplace is now disputed, possibly in London near the Tower, possibly in Ireland at Shagarry Estate, possibly the Church of All Hallows, Barking, England. Much better known and much-visited is Jordans, the place where he is buried in the simple buying ground of the Jordans Meeting House in Buckinghamshire, on a by-road running between Chalfont St. Peter and Beaconsfield. The present grave markers were added later, since early Friends generally declined to have their names on tombstones. He lived most of his life and actually died in the family estate in Berkshire called Ruscombe where he had usually attended Friends Meeting in nearby Reading. At the time of his death, his fortunes were much reduced, having been betrayed by his steward Ford, and imprisoned for nine months.
Slate Roof House
When he lived in Philadelphia, William lived in the "Slate Roof House" on Second, between Chestnut and Walnut (a small park commemorates the building lot), and the Letitia Street House. His plans originally were to build a manor house where the Art Museum stands today, on Faire Mount, but somehow he changed his mind and moved to Pennsbury on the Delaware River near Trenton. This manor also did not survive, but its careful restoration is now well worth a visit.
Horticultural Hall
William Penn had thirteen children, a circumstance adding much difficulty for genealogists. John Penn, the nephew of William's son Thomas, was the grandson who acted as Proprietary Agent and Governor prior to the American Revolution, although Thomas remained in London as a close friend of the King, and exercised firm control of the policies of the Proprietorship. John built a fine mansion on the Schuylkill called Lansdowne at the site of what was to become Horticultural Hall in the 1876 Centennial. About all that can now be visited is the glen on the estate, over which a bridge is still usable. It was here that he was apprehended by Revolutionaries, and taken to house arrest in New Jersey.
Solitude House
Lansdowne burned in the early 19th Century and pictures of it are hard to find. A smaller house of John Penn's, called Solitude, still stands near what is now the Zoo. John was arrested by rebel troops while living at Lansdowne and held prisoner at another house confusingly called Solitude, on the grounds of what became Union Forge, later the Union Forge Ironworks, subsequently the Taylor Iron and Steel Company. All of this is located in High Bridge, New Jersey, where subsequently five generations of the Taylor family lived until 1938. The Union Forge Heritage Association/Solitude House Museum welcomes visitors.
Stoke Mansion
A different John Penn, who called himself John Penn of Stoke, inherited a much larger portion of the final payment for the Proprietorship lands in Pennsylvania in 1789, because he was the son rather than nephew of Thomas Penn. Thomas had purchased the historic Manor House in Stoke Poges in England. Although this splendid palace dated back to 1066 and Elizabeth I had visited it, it was by 1790 so dilapidated that John Penn demolished three quarters of it. In its place, he built a proper palace, called Stoke Park. The family fortunes seem to have declined after that, perhaps because of the extravagance of an estate he could not afford.
Dr. Witherspoon
The most eminent Scotsman in Colonial America was the Reverend Dr. Witherspoon, an eminent Presbyterian minister and President of the College of New Jersey, later Princeton University. Already at the top of the academic heap in Scotland, he was recruited for Princeton on the advice of Benjamin Franklin, who knew his political sentiments well. From England, Witherspoon made the following exhortation to his future compatriots at the critical moment of the Declaration of Independence:
Scottish Pipers
"To hesitate at this moment is to consent to our own slavery. The noble instrument on your table, which insures immortality to its author, should be subscribed this very morning by every pen in this house. He who will not respond to its accents and strain every nerve to carry into effect its provisions is unworthy the name of freeman. Whatever I may have of property or reputation is staked on the issue of this contest; and although these gray hairs must descend into the sepulcher, I would infinitely rather that they descend hither by the hand of the executioner than desert at this crisis the sacred cause of my country."
On the humbler level of popular doggerel, was the following:
"And when the days of trial came,
Of which we know the story,
No Erin son of Scotia's blood
Was ever found a Tory. "
It may not be quite true that the Scotch-Irish immigrants started the Revolution, or led it, or did most of the serious fighting. But in Pennsylvania their role was decisive. New England started most of the trouble, the aristocrats of Virginia quickly rose to the challenges of chivalry, but Pennsylvania was not so darned sure about this business. The back-country Germans were perfectly content to farm the richest topsoil they ever heard of, the Quakers were peaceful and prosperous just as they were. It was the Scotch-Irish of the frontier, needing no pretext of Tea Taxes or Stamp Acts to hate the English King, who were ready to take the musket off the wall at the slightest provocation.
It is indeed puzzling in retrospect to wonder what the English Kings were trying to achieve. Having driven the Scots out of their Scottish homeland into Ireland where they would be less bother, they subsequently drove them out of Ireland as well. The short explanation has been offered that James II who was to be driven off the throne for his Catholic leanings, had seen Ireland as a fall-back refuge in case of trouble and wanted it safely Catholic. So in anticipation of what did indeed happen under William and Mary, he wanted the Presbyterians out of there.
There is perhaps some logic to this, but try telling it to a Scot.
Haym Salomon
The word Sephardi is derived from the Hebrew word for Spain, where Jews were a prominent part of the Arab community for several hundred years. The Christian monarchs Ferdinand and Isabella, regarding the Sephardim as pro-Arab, drove them out of Spain and Portugal in 1492. They scattered widely, and only a small portion eventually got to the Western hemisphere. It is also helpful to know that Askenazic is the Hebrew word for German, since this other main branch of the religion did not emigrate to America until later in the Nineteenth century in response to the suppression following the 1848 Revolutions. There are some important differences in liturgy, and occasional episodes of bad feeling between the two Jewish groups, some of it kept alive by issues arising in Israel. Historically, the Sephardim have had a greater tendency to assimilate in local cultures, both generally and particularly in Philadelphia. However, the most prominent Jew in the American Revolutionary War was Haym Salomon, who was born in Poland.
On leaving Spain, many Sephardim had gone to Amsterdam, and from there to the Dutch colonies. That accounts for their presence in the Delaware Bay as part of the Dutch settlements which preceded William Penn's arrival. The British conquest of the Dutch accounts for their subsequent local disappearance. However, it paradoxically also accounts for an influx from Curacao and other Caribbean Dutch colonies conquered by the British, usually favoring New York as a place to settle. Presumably, Sephardic feelings about the English were cautious at best. When the British occupied New York in the early days of the American Revolution, many Sephardim fled to Philadelphia, but largely returned to New York after the end of the Revolution. There was thus a double process of filtering out those who were unsympathetic with the British, and those who were attracted by seeing what Philadelphia represented.
Records were poorly kept in those days, and in civil wars there are often reasons to be vague about your sympathies and activities. We know that Haym Salomon came to Philadelphia in 1774, grew very rich in association with Robert Morris, but died in poverty after a few years, now lying in an unmarked grave. It is a little unclear how he became rich, although all merchants involved in shipping did a little privateering, often described as piracy by the victims. It is also unclear how he became suddenly poor, although speculators in currency and land often make serious misjudgments. Robert Morris is himself a prime example.
The National Museum of American Jewish
The matter becomes of greater interest when Haym Salomon is sometimes referred to as one of the main financiers of the Revolution. Partly because of the ease of counterfeiting with the primitive printing technology of the time, the British had forbidden the use of paper money in the colonies as part of the Townshend Acts. While understandable, it caused great pain to unbalanced trade partners, and metal coins quickly migrated back to England, almost paralyzing colonial economies for lack of cash to transact local business. It probably caused a different sort of pain to Benjamin Franklin, who derived much of his income from printing the currency of New Jersey. In particular, it kept cargoes trapped in port for lack of payment, which the annoyed British merchants mistook as an implementation of John Dickinson's proposal for deliberate "non-importation". In any event, Jewish merchants and bankers were well situated to find ways around currency blockages, sometimes using precious gems as substitutes for specie, and utilizing informal family networks scattered around the world. In civil wars, guns have to be bought and paid for, legalities get swept aside. There is said to be evidence that our ambassador to France, Benjamin Franklin, utilized Salomon to translate the French loans he had negotiated into the munitions which colonials needed. There is incidentally reason to believe that the Rothschild family established its great wealth by similar commodity dealings at the time of the Battle of Waterloo.
Just what it was that went so drastically wrong for Haym Salomon at the conclusion of our war for independence has not yet been made clear, perhaps never will be. He may have been caught in the uproar over the worthless Continental currency, his ships may have been captured, or he may have been trapped by the land speculation which ruined Robert Morris. But those were rough, tough times. We have the word of those who should know, that Salomon's service was essential to our achievement of Independence.
King George III
Combatants in a war often personalize the enemy in a single person. In 1776 the American colonists blamed it all on King George III. The British might have picked Sam Adams or Thomas Paine. Things are of course always vastly complicated in the affairs of great nations. Economics and national power are strong forces, as are culture, religion, and the accidents of geography and history. But when matters teeter on the edge of a cliff, insignificant pests can occasionally start an avalanche.
Charles Townshend
Consider first Charles Townshend, the Chancellor of England's exchequer in 1768. Townshend didn't particularly want the job, hoping instead for the Admiralty. None of the political power brokers particularly wanted to give him the job, ultimately regarding it as the place he could do least harm. He might have had no less an advisor than Adam Smith, who was the tutor of his son, but Smith's letters to him are so servile that it seems unlikely he would urge free trade to such a headstrong merchantilist employer. It is intiguing to speculate this strange association might have sharpened Smith's opinions in the Wealth of Nations which app
William Bradford
Townshend had been a problem all his life. His mother was brilliant, and notoriously promiscuous. He and his father exchanged 2000-word letters explaining to each other how the other was completely wrong. Charles was witty, eloquent and charming when he wanted to be, and he married an enormously wealthy woman. After that, his family had no hold on him, and they rarely spoke to each other. The same charm and arrogance can be perversely effective in politics, so other politicians often just had to put up with him. But as politicians do, they roasted him in their letters and private conversations. His political opponent, Edmund Burke, was perhaps the most gentle critic when he observed, "His actions... seem never to have been influenced by his most wonderful abilities." Opponents, of course, welcome deficiencies in their enemies, while exasperated political allies can be the most scathing about team members who injure the party with misbehavior. Adam Smith referred to his employer as someone "who passes for the cleverest fellow in England." Chase Price described him as "utterly unhinged". Horace Walpole: "nothing is luminous compared with Charles Townshend: he drops down dead in a fit, has a resurrection, thunders in the Capitol, confounds the Treasury bench, laughs at his own party, is laid up the next day, and overwhelms the Duchess [of Argyll, his mother-in-law] and the good women that go to nurse him!" The final assessment of his biographer Sir Lewis Namier was "...illustrations of Charles Townshend's character can be picked out anywhere during his adult life. He did not change or mellow; nor did he learn by experience; there was something ageless about him; never young, he remained immature to the end."
What matters for contemporary American readers is Townshend's 14-year grievance against American legislatures which seem to have originated when he discovered the New York Legislature in 1754 up to its old tricks of refusing to provide funds for Royal initiatives it did not like. At the time, he was in his first public office, the Board of Trade and Plantations, and had written some highly arrogant orders to New York, making many high-handed and disdainful public asides to his friends, including his wish to have the Assembly cut out of appropriations except for token approval of them. He was young, so his wiser party colleagues simply deflected him. But by 1767 he was Chancellor of the Exchequer, a brilliant speaker, and no doubt had collected many political chits to be cashed in. The Townshend Taxes were enacted, his underlying personal grievances were well known, the colonial assemblies could see it meant big trouble.
Although almost no one could match Townshend for bizarre behavior, in Philadelphia at Front and Market Streets, there was another difficult personality, named William Bradford. As a printer and newspaper publisher, Bradford must have been a person of some note in a town of thirty thousand, but it is difficult to find a portrayal of him, and notes about his personal life are comparatively skimpy. We do know that he was a member of a family of newspaper printers, including grandfather, uncle, and son, all of whom had experienced official prosecution for defiance of government. His grandfather, also named William Bradford, is said to have had Quaker affiliation, but it is not particularly prominent in accounts of him, while almost no mention of Quaker affiliation is made of the rest of the family. Grandfather William had a notable apprentice named John Peter Zenger, who was prosecuted for libel against the Royal Governor of New York, defended in a famous trial by the Philadelphia Lawyer Andrew Hamilton, who established the principle that the truth is not a libel. We can rather safely presume that the younger William Bradford had grown up in an environment of hostility to authority, aggravated but not necessarily caused by some rather plain persecutions by authority. It may even have been specific hostility to British authority, since in 1754 young Bradford began publication of a specifically anti-British paper, The Weekly Advertiser. It is interesting to note that its principle competitor was a pro-British paper printed by Ben Franklin. Somewhere along the line, Bradford became head of the Sons of Liberty, clearly marking him as strongly anti-British, probably well before the Townshend Acts.
Bradford established the London Coffee House at Front and Market Streets in Philadelphia. That might seem a strange sideline for a printer, until you reflect that the location was right beside the waterfront, especially the Arch Street warf. Newspapers in those days almost never had professional reporters, depending for their content on gossip from visiting ships. A coffee shop near the waterfront would be an excellent place to hear the maritime news of the world, and possibly hear it sooner than competitors. The London Coffee House provided a place for bargaining and trade; the Maritime Exchange got its start there. It may or may not be significant that a main activity of the Exchange was to buy and sell slaves. It is sure that the Navigation Acts and the Townshend taxes on various imports were a central topic of angry discussion in a waterfront Coffee House from 1768 to 1776. Thus it is possible that Bradford was caught up in the excited opinions of his customers, but plenty of evidence of anti-British sentiment exists in his background to suppose he nursed a long-standing prejudice against the British government. Our most authoritative account of the events appeared in the Pennsylvania Packet of January 3, 1774, but the beginnings of the story were better related in the Pennsylvania Mercury of October 1, 1791, shortly after Bradford's death.
"After the Tax on Tea imported into America was reduced to 3d. per pound by the British Parliament, there appeared to be a general disposition in the colonies to pay it. In this critical situation of the Liberties of America, Mr. Bradford stopped two or three citizens of Philadelphia, who happened to be walking by the door of his house on Front-street, and stated to them the danger to which our country was exposed, by receiving, and paying the tax on, the tea. Many difficulties stared the gentlemen, to whom he spoke, in the face...; and it was particularly mentioned that the citizens of Philadelphia were tired out with town and committee meetings, and that it would be impossible to collect a sufficient number of them together, to make an opposition to the tea respectable and formidable. 'Leave that business to me(said Mr. Bradford),--I'll collect a town meeting for you--Prepare some resolves;--and,--they shall be executed.' The next evening he collected a few of such citizens who were heartily opposed to the usurpations of the British Parliament, who drew up some spirited resolutions to reject the dutied tea, and to send back the tea ship. These resolutions were adopted the Saturday following (October 16, 1773), by a large and respectable town meeting at which the late Dr. Thomas Cadwalader (a decided Whig) presided. The same resolutions were immediately afterwards (November 5, 1773) adopted, nearly word for word, by a town meeting in Boston, where a disposition to receive the tea had become general, from an idea that opposition to it would not be seconded or supported by any of the other colonies. The events (December 16, 1773) which followed the adoption of these resolutions in the town of Boston are well known. However great the merit and sufferings of that town were in the beginning of the war, it is a singular fact, and well worthy of record in the history of the events which produced the American Revolution, the First act in that great business originated in Philadelphia, and that the First scene in it originated with Mr. William Bradford."
Written within a few days of the events, the January 3, 1774 Pennsylvania Packet is more detailed. In particular, the grievance is stated to be "...the pernicious project of the East India Company, in sending Tea to America, while it remains subject to a duty, and the Americans at the same time confined by the strongest prohibitory laws to import it only from Great Britain." While it is not easy to find a quotation capsulizing the British response, it would be something to the effect that the Tea Act was in fact a face-saving gesture which reduced the price of tea for the colonists, and was received as such by most of them, until smugglers of Dutch tea now faced the same surplus of unsold tea which had nearly bankrupted the East India Company after the colonies resorted to non-importation. Both arguments contain a certain amount of spin, but side-by-side, they contained sufficient reasonableness to permit peaceful resolution. To go on with the details:
"Upon the first advice of this measure, a general dissatisfaction was expressed, that, at a time when we were struggling with this oppressive act, and an agreement subsisting not to import Tea while subject to the duty, our subjects in England should form a measure so directly tending to enforce the act and again embroil us with our parent state. When it was also considered that the proposed mode of disposing of the Tea tended to a monopoly, ever odious in a free country, a universal disapprobation showed itself throughout the city. A public meeting of the inhabitants was held at the State-House on the [16]th October, at which great numbers attended, and the sense of the city was expressed in [the following] eight resolves:"
which we will divide into three sections for commentary. Resolves 1,2, and 5 can be said to be a protest against the Tea Act. While the language is a little high-flown, such a protest would be considered a normal exercise of free speech:
"1. That the disposal of their own property is the inherent right of freemen;that there can be no property in that which another man can, of right, take from us without our consent: that the claim of Parliament to tax America is, in other words, a claim of right to levy contributions on us at pleasure. "2. That the duty imposed by Parliament upon Tea landed in America is a tax on the Americans, or levying contributions upon them without their consent. "5. That the resolution lately enered into by the East India Company to send out their Tea to America , subject the payment of duties on its being landed here, is an open attempt to inforce this ministerial plan, and a violent attack upon the liberties of America. "
Resolutions 3. and 4. are accusations of a deeper plot. The colonists do not want to be taxed by the British Government directly, but prefer to tax themselves so that final payment to colonial officials must pass through colonial control. Unspoken, of course, is the creation of an ability to thwart implementation of unwelcome directives from London:
"3. That the express purpose for which the tax is levyed on the Americans, namely for the support of government, administration of justice, and defence of his Majesty's dominions in America, has a direct tendency to render Assemblies useless, and to introduce arbitrary government and slavery. "4. That a virtuous and steady opposition to this ministerial plan of governing America is absolutely necessary to preserve even the shadow of liberty, and is a duty which every freeman in America owes to his country, to himself, and to his posterity".
Finally, in the tradition of the writing of resolutions, come the so-called Resolves, the solution to the problem which you wish your audience to agree to. These concrete actions are found in resolutions 6, 7, and 8. The British could be expected to be offended, since the Resolves do not acknowledge the right of Parliament to impose the tax, or humbly petition that they reconsider. Rather, they assume the role of sovereign government themselves, effectively declaring the colonies would punish anyone who obeyed the Law, would coerce those who are charged by Parliament to implement the Law, and would cause those appointed by Parliament to do this work, to resign or else the peace would be disturbed by colonial enforcement of these 'suggestions':
"6. That it is the duty of every American to oppose this attempt. "7. That whoever shall, directly or indirectly, countenance this attempt, or in any wise aid or abet in the unloading,receiving and vending the Tea sent, or to be sent out by the East India Company, while it remains subject to the payment of the duty here, is an enemy to his country. "8. That a Committee be immediately chosen to wait on these gentlemen, who, it is reported , are appointed by the East India Company to receive and sell said Tea, and request them, from a regard to their own character, and the peace and good order of the city and province, immediately to resign their appointment."
The thinly-veiled threats contained in these resolutions against anyone who disagreed were soon made more explicit when the tea ship actually arrived at the mouth of the Delaware around December 23, 1773, by public posters to the Delaware River pilots and Captain Ayers of the incoming Tea ship, signed by THE COMMITTEE FOR TARRING AND FEATHERING. Cards were printed up for the public to distribute around the premises of James and Drinker, telling them to resign as sales agents for the Tea by writing a note, to be delivered to the London Coffee House -- William Bradford's place of business. A few shouts and the waving of a few torches would have been sufficient to indicate that the alternative was arson.
A month elapsed between the proclamation of the Philadelphia resolutions and the actual arrival of Captain Ayers in our harbor. Another tea ship had arrived at Boston in the meantime on December 16,1773. The Boston citizens had dressed themselves as Indians, and dumped the Boston Tea consignment into the harbor, proclaiming the same eight Philadelphia-written resolutions. But in Philadelphia, violence proved unnecessary. James and Drinker resigned their appointments as sales agents, the pilots were ready enough to impede passage, and Captain Ayers on December 27, 1773 meekly sailed his cargo of Tea back where it came from.
Franklin Court Museum
When Judge Edwin O. Lewis was seized with the idea of making a national monument out of Colonial Philadelphia, he wanted it big. Forty or so years later, it's big all right, but not big enough to encompass the whole of America's most historic square mile. Government ownership in the form of a cross now extends five blocks north from Washington Square to Franklin Square, and four blocks East from Sixth to Second Streets. Restoration and historic display have spread considerably beyond that cross, however, and the Park Service has created ingenious walkways within the working city in the neighborhood. If you thread your way through these walkways, you can stroll for miles within the world of William Penn and Benjamin Franklin. One such unexpected walkway is now called Franklin Court, which essentially cuts from Market to Chestnut Streets, within the block bounded by 3rd and 4th Streets. Hidden in the center is the reconstructed ghost of Franklin's quite large house, sitting in an interior courtyard bounded by a colonial post office, and a newspaper office once operated by Franklin's grandson. And, along the side of the walkway near Chestnut Street, is a fascinating museum of Franklin's personal life, built by no less than Frank Venturi, and operated by Park Rangers in the polished but low-key manner for which the U.S. Park Service is famous.
For some reason, this jewel of a museum has not received the high-powered publicity it deserves. It's off the main Park premises, as we mentioned, and some of the problem has to be attributed to Venturi. As you walk through, you don't expect a huge museum to be there, and it can look pretty inconspicuous as you walk past because it is mostly underground. Take my word for it, it's worth a visit. There are long descending ramps inside the doors, which can be pretty daunting if you are elderly and tired. But, also inconspicuous, there's an elevator if you look around for it. Venturi didn't seem to like windows very much, which is a problem for some people.
There's a movie theater inside there, playing a long list of fascinating documentaries. There's an ingenious automated display of statuettes which utilize spot lights and revolving stages to present Franklin in Parliament, resisting the Stamp Act, Franklin being his charming self before the French monarchs, and the frail dying Franklin getting the Constitutional Convention to approve the document. There are also a variety of ingenious inventions of Franklin's on display in the original, including bifocal glasses, the first storage battery, a simplified clock, several library devices, the Franklin stove, and so on. In some ways, the highlight is the Armonica.
The Armonica is the musical instrument invented by Franklin, for which both Beethoven and Mozart composed special music to exploit its haunting tone. If you ask the nice Park Ranger, she will be flattered to play you a tune on it.
Ben Franklin's Glass Armonica
Everyone knows Ben Franklin spent a lot of time holding a wine glass. Evidently, he noticed a musical note emerges if you run your finger around the open mouth of the drinking glass, and systematically studied how the tone can be varied by varying the level of liquid in the glass. The same variation in emitted tone relates to variations in thickness of the glass. So, he set up a series of different sized glasses impaled on a horizontal broomstick, enough to cover three octaves, rotated the broomstick with a treadle like those used for spinning wheels -- and made music. The tone has a haunting penetration to it, which induced both Beethoven and Mozart to write special compositions for the armonica, and the Eighteenth Century went wild with enthusiasm.
Glass Armonica
Unfortunately, a number of the young ladies who played the armonica went mad. We now recognize that since the finest crystal glass was used, with a very high lead content, the mad ladies were suffering from lead poisoning after repeatedly wetting their fingers on their tongues. As a matter of fact, port wine at that time was stored in lead-lined casks, resulting in the same unfortunate consequences, which included stirring up attacks of gout. Franklin himself was a famous sufferer from gout, which was more likely related to the port wine than playing the armonica, in his particular case.
Anyway, the reputation for inducing madness added to the spooky sort of sound the instrument made, attracting the attention of a montebank named Franz Anton Mesmer, who falsely claimed to be the the father of hypnotism. Mesmer enhanced the notiety of his stage performances by hypnotizing subjects while an assistant played the armonica, meanwhile relating all sorts of wild tales about animal magnetism. This was pretty sensational at the time, until a young man in an audience suddenly died. It is now speculated that the victim probably had an epileptic seizure, but the news of this public fatal event pretty well finished Mesmer as an evangelist, and the armonica as a musical instument.
Franklin Court
There's a replica of an armonica on display in the Franklin Court Museum around 3rd and Chestnut, which we are vigorously assured is not made with leaded crystal glass. The Park Rangers put on two daily performances by request, at noon, and 2:30 PM.
Comm Volu In Medicine
Mary Wirshup has a very different medical background from mine, but she's my kind of doctor. I couldn't help wishing, as she addressed our urban luncheon club, there could be thousands more like her, even while understanding more fully than she seems to, the reasons why doctors are driven from her behavior model. As we parted, it felt like saying a last goodbye to the Spartans marching to Thermopylae.
As 46,000 medically uninsured persons in Chester County get sickness and injuries, they know that a Federal Law prohibits a hospital accident room from refusing to see them, so ways are found to shunt patients to the CVIM free clinic, run by volunteers. This law is in turn a response to a government-created situation where a hospital which "accepts" patients must keep them. Any economics teacher can tell you that supply/demand issues are best addressed by price adjustment, so price controls in whatever guise lead to shortages. I must say I have little sympathy with the devious strategies which hospitals often employ to disguise their rejection of uninsured patients. At the same time, I know a lifeboat will sink if too many climb aboard. Nevertheless, the semantic switch from lack of insurance to lack of care implies that only more insurance can surmount the barriers to care, which is absurd. For one thing, I know too many hospital administrators who are paid a million dollars a year, and one who is paid two million. And at least two health insurance executives are in the newspapers with net worth over a billion -- yes, that's billion with a b. We have reached a point where reducing all physician income to zero would only reduce "healthcare" costs by 10%. As I look at Dr. Wirshup's modest clothing I can only surmise she plans to continue her modest living until she is 80 years old, after which her savings might see her out. Squeezing physician reimbursement is not intended to save significant money, nor intended to restore physician incomes to more equitable levels. It is intended to address the oversupply of physicians without confronting either the universities or the foreign trained lobby.
The elite tranche of medical schools do their part to relieve physician oversupply without reducing class size, through the encouragement of their students to go into research. I was well along at the National Institutes of Health before I finally decided I had not gone into medical school with that goal, and returned to teaching and patient care in a more satisfying model not too different from CVIM's obviously Pennsylvania Dutch spirit. The Amish at the far western end of Chester County reject the whole idea of insurance; their most characteristic statement is "Don't send me no bills." That attitude is rather a contrast with the shiny housing and automobiles in the Silicon Valley developments of Southern Chester County, or even with some rather bewildered Quaker farm families scattered over the rest of the county next to the horsey set. Chester County is America.
On Second Street in Society Hill, next to the park where William Penn's house stood and a few feet from Bookbinders, is the house of Dr. Thomas Bond. Bond conceived the idea of building the first hospital in America and with Franklin's publicity machine succeeded in getting it built, to care for the "sick poor". Dr. Bond started a second enduring tradition as well. When the Legislature expressed doubt that the institution was sustainable, he pledged to convince the local medical profession to serve the poor without charge. Some of the legislators who voted for the measure did so in the belief that charity care would never appear, so the gesture would be without cost. The physicians did indeed come forward, in sufficient numbers to run many institutions for two hundred years. In 1965 health insurance made its national appearance, and has regarded the benchmark low costs of charity care as a threat, ever since.
Old St. Joe's
When William Penn invited all religions to enjoy the freedom of Pennsylvania, he created a home for the first churches in America of many existing religions, and furthermore the founding mother churches for many new religions. Regardless of the local congregation, there is obviously a strong wish to preserve the oldest churches of the Presbyterian, Methodist, United Brethren, African Methodist Episcopal, Baptist, Mennonite, and many other denominations. While the founding church of Roman Catholicism was obviously not in Philadelphia, St. Josephs at 3rd and Willing was for many decades the only place in the American colonies where the Catholic Mass could be openly performed. The towering genius of William Penn lay in the combination of an almost saintly wish to spread religious toleration, combined with what must have been a sure recognition that the motive of Charles II in giving him the land, was to get rid of all those dissenters from England.
Philadelphia now has a thousand church structures within the city limits, and more than a thousand in the suburbs. However, many church buildings find themselves stranded by migration of local ethnic groups to other locations, and a decision must be made whether to demolish a relic, or sell it to a new population who have moved into the old neighborhood with a new religion. There is still greater discomfort with selling an old church to a commercial enterprise, but even that happens. The resulting bewilderment and dissention among the surviving parishioners is easy to imagine as they face these choices, or fail to face them, and it is readily imagined that the establishment in 1989 of Partners for Sacred Places filled a very important need.
First Presbyterian Church
The Executive Director, Robert Jaeger, recently described to the Right Angle Club how the Partners operate. First of all, the Constitutional separation of church and state makes it difficult to seek funding or even advice from the Federal government. Pennsylvania has been less hesitant than most states in this regard, but even here the issue of fund-raising is a central issue. One only has to look at the Aztec and Mayan religious sites in Mexico to grasp that there are circumstances when the parishioners of a religion may have completely died out, but their monuments justify state assistance. Private, nondenominational philanthropy seems the easiest route for a society to take, in avoiding the obvious political and legal entanglements of seeming to assist one denomination more than others.
And then there are architectural issues;, can the building be saved at a reasonable cost, is it truly a unique or outstanding piece of art, can a reconstruction go ahead in an incremental way, are the necessary stone or other materials any longer obtainable, do the workman skills exist? In addition to these issues which are commonly presented to a congregation, there are issues they probably have never considered. As congregants move from center-city to the suburbs, they become commuters to church, largely out of touch with the local community and its activities. A survey conducted by the Partners suggests that 81% of the activity which takes place in church buildings on weekdays is conducted by and for non-members of the church; if the two groups lose touch with each other, opportunities are missed, and eventually there may be unnecessary friction. On the other hand, those non-religious activities probably escape the legal prohibitions against government assistance, and may suit themselves as vehicles for indirect government support. The approach has so much promise that Partners for Sacred Places has devised a computer program on their website which provides a way for congregations to assess their assets, and their problems. In fact, the organization conducts extensive training programs for church preservation, and has been forced by the size of the demand to exclude churches that are clearly failing beyond reasonable hope of recovery by their church membership.
The Partnership was originally founded by consolidation of the New York and Philadelphia organizations, to make a stronger national effort. But now things are going the other way. New chapters are springing up in Texas and California. Partners for Sacred Places is obviously proving to be a good idea, effectively managed.
WWW.Philadelphia-Reflections.com/blog/1269.htm
Stephen Girard
Keep flipping a coin, it's unlikely to come up Heads eighteen times in a row, but it could happen. Once they get to be the richest in the country, most people would quit flipping rather than risk everything on the fifty-fifty chance the next flip will come up Tails. But Robert Morris, William Bingham, Alexander Hamilton, and many others would not only reach the pinnacles of wealth but still gamble everything they owned on a bold chance to get lots more. Stephen Girard was the same way, although in his case he never seemed to lose.
First Bank
By 1811, Girard was the wealthiest man in America. Among other things, he was the largest stockholder of the First Bank, and ran the largest shipping and merchantile empire in Philadelphia, trading extensively with France and England. From these contacts he was able to see relationships between France and England, and between England and America, were going to deteriorate into war. So, Girard cashed out, totally selling his overseas trading interests rather than risk blockades and confiscations. It was a shrewd move, boldly getting out before others could see what he saw. Girard was 61, his wife was permanently hospitalized, and he certainly never had to work again.
Thomas Jefferson as President of the United States
As a major stockholder in the bank, Steven Girard was well aware of the strong populist sentiment that the Government had no business running a bank. Although he did his best to preserve the bank, he could see its closure was politically inevitable with Thomas Jefferson as President of the United States, soon to be followed by his Virginia crony, James Madison. When the charter was revoked, Girard took his immense cash horde -- and bought the doomed bank with it. From the Virginians' perspective, they were going to need that money if they went to war with England; while in Girard's view they could not possibly fight a war without a bank to finance it. As matters turned out, the War of 1812 was largely financed by Girard's personal wealth, which ultimately meant that Girard bought the Government's bank with the Government's own money.
Girard Estate Map
Even making allowances for the fact that the troubles over the national banks were a symptom of the immature financial markets of the nation, which made passive investment difficult for those with rentier ambitions, Girard was clearly a compulsive gambler. Most compulsive gamblers are losers, Girard just happened to be a compulsive winner. His new bank was enormously successful, and as late as 1829 he purchased all of Schuylkill County for its coal discoveries, expressly directing in his will that his heirs were never to sell it. His estate still owns a large part of South Philadelphia, based on the same long foresight of a pretty old man. If you think that's easy to do, just ponder what finally happened to Robert Morris, Haym Salomon, and Alexander Hamilton.
Taking a Bow
Act 1 Gallatin Triumphantly Returns to Congress.

When Washington pardoned the Whiskey Rebels, Gallatin was immediately elected to Congress. It was his payback time for Hamilton and all his works. The desperate Federalists tried to oust him a second time with a Constitutional Amendment, which failed before the force of Gallatin's oratory. Gallatin then threw his influence behind Jefferson's deadlocked congressional contest with Aaron Burr, electing Jefferson and earning his own reward as Secretary of the Treasury. Although elected Vice President, Burr's fury is turned against Hamilton, foreshadowing the coming duel.
Act 2 The Virtuoso Financier.

Jefferson proves hopeless in domestic affairs, so Gallatin essentially takes over that role, just as Hamilton had taken over from Washington, who was another Virginia cavalier adrift in these matters. Gallatin promptly repealed the whiskey tax, cut government expenses, in particular the million dollar annual tribute to the Barbary pirates, and almost performed magic in financing the Louisiana Purchase together with Stephen Girard and William Bingham.
Act 3 Burr Kills Hamilton

After his Vice President kills the leader of the opposition party, Jefferson's party was on the political defensive. But not Gallatin, who spits out his famous remark, "A majority of both parties seem disposed to deify Hamilton and treat Burr as a murderer. The duel, for a duel, was certainly fair." It is an all-time low moment in the politics of the young nation.
Act 4 Diplomacy or War?

As the Napoleonic wars engulf the whole world, both England and France harass our merchant ships, and cries go up for war. Partly out of desire to annex Canada in the process, Gallatin sneers at proposals to restrain the fighting Europeans with mere sanctions. His prediction proves dismayingly correct that nothing would come of it except to make our own citizens into smugglers.
Act 5 War It Is.

The First Bank's charter was to expire in 1811, and the bank closed, creating an opportunity for Girard to buy it out and finance the coming war himself. Gallatin was desperate to end the war as quickly as possible, especially after the British burned Washington. To speed matters up, Gallatin took a leave of absence and went off to the peace conference in St. Petersburg himself.
Epilogue in front of the curtain.

Gallatin finally announces his resignation from the longest term of Treasury Secretary in our history. He is seventy years old, three score and ten. Rather than play golf, he was to spend the last eighteen years of his life in three more careers. As a diplomat, he negotiated both our permanent northern and southern borders. As an academic, he founded the discipline of ethnology with the study of native Indian languages, meanwhile founding New York University. And as a banker, he founded a bank which has since evolved into JPMorgan Chase. After all, a man has to find something to keep himself busy.
According to the records of the Pennsylvania Hospital, the following 48 persons were patients in the hospital on July 4, 1776:
| | |
| --- | --- |
| Richard Brinkinshire (Admitted 11/15/1775) | John Ridgeway (Admitted 12/26/1775) |
| James Chartier (Admitted 1/6/1776) | patient (Admitted 1/6/1776) |
| patient (Admitted 1/20/1776) | patient (Admitted 1/20/1776) |
| Mary Yell (Admitted 2/7/1776l) | John Beckworth (Admitted 2/7/1776) |
| Bart. McCarty (Admitted 2/10/1776) | John King (Admitted 2/10/1776) |
| Robert Alden (Admitted 2/17/1776) | William Patterson (Admitted 3/6/1776) |
| Elizabeth Hanna (Admitted 3/9/1776) | John McMahon (Admitted 3/13/1776) |
| Mary Burgess (Admitted 3/23/1776) | Mary Anderson (Admitted 4/10/1776) |
| John Hatfield (Admitted 4/15/1776) | Eliza Haighn (Admitted 4/17/1776) |
| Charles Whitford (Admitted 4/24/1776) | patient (Admitted 5/8/1776) |
| Susanna Carrington (Admitted 5/8/1776) | patient (Admitted 5/8/1776) |
| William Johnson (Admitted 5/13/1776) | Lazarus Chesterfield (Admitted 5/22/1776) |
| Mary Spieckel (Admitted 5/22/1776l) | William Edwards (Admitted 5/22/1776) |
| patient (Admitted 5/23/1776, Lunatic) | Jane White (Admitted 5/25/1776) |
| Charles McGillop (Admitted 5/29/1776) | ---Fitzgerald (Admitted 6/1/1776) |
| Michael Rowe (Admitted 6/6/1776) | patient (Admitted 6/6/1776) |
| John Hughes (Admitted 6/12/1776) | Joseph Smith (Admitted 6/15/1776) |
| Esther Munro Lunda (Admitted 6/15/1776) | Mathew Coope (Admitted 6/19/1776) |
| Anne Patterson (Admitted 6/19/1776) | Thomas Savoury (Admitted 6/20/1776) |
| Rebecca Winter (Admitted 6/26/1776) | Elizabeth Manning (Admitted 6/26/1776) |
| Negro (Admitted 6/24/1776) | Elex. Scanvay (Admitted 6/24/1776) |
| Fanny Stewart (Admitted 6/24/1776) | Peter Barber (Admitted 6/29/1776) |
| Catherine Campbell (Admitted 6/29/1776) | Ann McGlauklin (Admitted 7/3/1776) |
| Elizabeth Lindsay (Admitted 7/3/1776) | Ann Jones (Admitted 7/3/1776) |
The records indicate the following diseases were the reason for admission of those patients. Although in Colonial times there was no medical delicacy to avoid offending readers, present privacy standards require that we strip the diagnoses from the name of the patient and list them independently. There is some overlap, sometimes making it difficult to judge which disorder caused the admission.
Sore, poisoned or ulcerated legs: 16 cases
Lunacy, mind or head disorders: 10 cases
Syphilis: 7 cases
Fever and Rheumatic fever: 7 cases
Dropsy: 5 cases
Gunshot: 4 cases
Diabetes: 1
Blindness with clear pupil: 1
Spitting blood: 1 case
Dislocated arm: 1 case
Inflammation of face: 1 case
Scurvy: 1 case
broken arm: 1 case
---
The following physicians were elected at the Managers Meeting dated 5/13/1776:
Dr. Thomas Bond
Dr. Thomas Cadwalader
Dr. John Redman
Dr. William Shippen
Dr. Adam Kuhn
Dr. John Morgan
Pennsylvania Hospital
As commonly stated in medical history circles, the history of the Pennsylvania Hospital is the history of American medicine. The beautiful old original building, with additions attached, still stands where it did in 1755, a great credit to Samuel Rhoads the builder and designer of it. The colonial building on Pine Street stopped housing 150 patients around 1980, supposedly at the demand of the Fire Marshall, although its perpetual fire insurance policy still owes the hospital several thousand dollars a year as unspent premium dividend. There may have been one small fire during two centuries of use, but its true fire hazard would be difficult to assert. It was just out of date. The original patient areas consisted of long open wards, with forty or so beds lined up behind fluted columns, in four sections on two floors. The pharmacy was on the first floor, the lunatics in the basement, and the operating rooms on the third floor under a domed skylight. It was entirely serviceable in 1948, when I arrived as an intern doctor. Individual privacy was limited to what a curtain between the beds would provide, but on the other hand it was possible for one nurse to stand at the end of a ward and recognize any distress among forty patients immediately. In this trade-off between delicacy and utility, utility was certain to be preferred by the Quaker founders. Visitors were essentially excluded, and if a patient recovered enough to be unnaturally curious about neighboring patients, well, he had probably recovered enough to go home.
Located between two large rivers, South Philadelphia up to ten blocks away was essentially a swamp until the Civil War. So, there were seasonal epidemics of malaria, yellow fever, typhoid and poliomyelitis at the hospital until the early twentieth century. Philadelphia was a port city, so sailors brought in cases of venereal disease, scurvy, even an occasional case of anthrax or leprosy. During the Industrial Revolution of the nineteenth century, tuberculosis, rheumatic fever and diphtheria were part of clinical practice. But underlying the ebb and flow of environmental effects, there was a steady population of illness which did not change a great deal from 1776 to 1948. These patients were all poor, because the rules in Benjamin Franklin's handwriting restricted service to the "sick poor, and only if there is room, for those who can pay." In 1948 there was a poor box for those who might feel grateful, but no credit manager or official payment office. The matter had been considered, but the cost of collection was considered greater than the likely revenue. When Mr. Daniel Gill was offered the position as the hospital's first credit manager, it was suggested that he be given a tenth of what he collected. To his lifelong regret, Dan Gill regretted that he refused an offer that he had felt he could not afford to accept.
So, the wards were filled with victims of the diseases of poverty, punctuated by occasional epidemics of whatever was prevalent. And a second constant feature of the patients was their medical condition forced them to be housed in bed. For centuries, physicians dreaded the news that a new patient was being admitted with "dead legs".
American Philsophical Society Seal
In the age of the Enlightenment, science was called natural philosophy; that accounts for the present custom of awarding PhD. degrees in chemistry and botany. The sort of thing which interested Ralph Waldo Emerson was called moral philosophy, and you will have to visit some other place than the A.P.S. if that is what interests you. Roy E. Goodman is presently the Curator of Printed Material (some would say he was chief librarian) at the American Philosophical Society, founded in 1743 by Benjamin Franklin who was clearly the most eminent scientist of his day, having discovered and explained the nature of electricity.
Roy E. Goodman
Roy Goodman is descended from cowboys and rodeo stars, but in spite of that he gave an entertaining talk recently at the Right Angle Club about this society devoted to useful knowledge, this oldest publishing house and scholarly society in America, once the home of the U.S. Patent Office, and scientific library and museum. They have many rare items in their collection, but the unifying theme is not rarity, but curiosity. You might say some of the items reflect the whimsy of Franklin, but it would be more fair to say it is an enduring monument to Franklin's universal curiosity about all things.
Nobel Prize Medal
There are about 900 members of APS, about 800 of them Americans, about 100 of them winners of a Nobel Prize. Let's just make a little list of a very few notables in the past and present membership. Start with the first four Presidents of the United States, add Alexander Hamilton and Lafayette, David Rittenhouse and Francis Hopkinson and you get the idea that Founding Fathers got in early. Robert Fulton, Lewis and Clark, Alexander Humboldt, John Marshall were early members, and more recent ones were Madame Curie,
Elizabeth Schuyler Hamilton
A popular legend of our founding fathers depicts a sudden 18th Century flowering of talent, even genius, establishing a new nation. More recently, historians have searched for personal material about the individual founders, humanizing them with warts, so to speak. A question nevertheless arises how a nation with the present population of Detroit could produce such outstanding leadership in what was then a scattered colonial frontier region. Men, that is. In our legends, the founders were all men.
Long before the feminist movement gathered momentum, historians like Rufus Wilmot Griswold and Abigail Adams Smith had chronicled the impact of the high society of George Washington's term of office as president, which was in part a conscious effort by Washington to show the new republic to the world, cutting just as fine a figure as the nations of old Europe. Martha Washington, soon called Lady Washington, was an uncomfortable central figure in the new social scene, and her dismay at being the President's wife, her anxiousness to retire from prominence as soon as his term was over, suggest the idea for a Republican Court probably did not start with her. Elizabeth Schuyler Hamilton, Alexander Hamilton's wife, might seem more likely but the real originator is not known. For present purposes, a plausible theory is that soldier George Washington and bachelor James Madison had the concept but couldn't pull it off; and then some determined ladies of the court soon showed them all, what was what.
George Washington
George Washington began the process by instituting formal receptions for visiting males, and Martha cooperated by holding Friday evening receptions, at which she was introduced to the wives of important political figures. The regular weekly events of the Presidency soon consisted of a reception by George Washington for new foreign ambassadors and other important foreign visitors, with a formal state dinner with a politically balanced invitation list on Thursday evening, and Lady Washington's reception on Friday with primarily a social purpose, leaning somewhat in the direction of letting the wives of important politicians shine in the social limelight. While the receptions were usually conducted with scripted formality, some notable exceptions were thought worthy of comment. Over twenty years earlier, Washington at Valley Forge had danced for three hours with Cathy Greene, the wife of Nathaniel Greene. When the widow Greene passed through one of the much later presidential levees, Washington suddenly bent over and kissed her, as "an impromptu act of spontaneity." The effect of the levees was to unite the elites of wealth and power, coming to Philadelphia from all thirteen colonies, now risen to statehood. Plantation owners from the South, ship owners and merchants from the North met the daughters of socially prominent families, and quite frequently married them. A courteous and civilized environment unified the new nation at its pinnacle by having local leaders mixing with other local leaders, becoming national leaders in the process. A politician in this new nation could rise to being someone of consequence socially. To be skillful in the social graces, particularly if there was wealth associated, was to advance in politics; to be boorish or loutish was to drop down somewhat in the scale of politics influence, slowly but surely losing power to those who did have such graces. Put a backwoods politician into new formal clothes, force him to behave in an unaccustomed way in the midst of those more skillful at it, enlist the fearsome pressure of his ambitious wife to shine in the spotlight; and the fear of looking foolish soon enough pushes him toward conformity.
Anne Willing Bingham
After the first year, then the developing Republican Court. Martha Washington of course had her own mansion at Mount Vernon, but Anne Bingham, had one within easy walking distance of Independence Hall. The Wife of the richest man in America, Anne Willing Bingham was the daughter of Thomas Willing the head of the most prominent merchant family in Philadelphia. Anne's husband William Bingham had achieved richest-man status at the age of 28 (by running a large privateer fleet in the Caribbean)and was not only able to build a splendid mansion patterned after that of a London aristocrat at 3rd an Spruce Streets,but had taken his young and beautiful wife on an extensive tour of the royal courts of Europe which lasted several years. It is said that Robert Morris later contributed to his own bankruptcy by attempting to match the Bingham mansion with a Morris mansion at 7th and Market, which had to be torn down for lack of money before it was completed. Since most of the wealthy hostesses attempting to achieve prominence in the newly forming Court had never been to Europe, there was no choice but to accept the judgement of Mrs. Bingham in such matters, especially since she had the biggest showplace in town. While the truth of a story about her is uncertain, it accurately illustrates the flavor of the social atmosphere that it could be said that the Dauphin, heir to the throne of France, once went to her father to request her sister's hand in marriage. The young prince was then living in exile at 4th and Locust, in temporarily impoverished circumstances. Old Tom Willing, as the story goes, said No. "If you do not become the King of France, you will be no match for her. And if you do become the King, she will be no match for you."
It does seem to be true almost every prominent lady in the Republican Court was described by contemporaries as astonishingly beautiful, but at least in the case of Anne Willing Bingham, her surviving portraits support this description. John Adams, who had his brilliant wife Abigail for comparison, was overwhelmed by Mrs. Bingham's ability to hold her own on political subjects at the dinner table. And George Washington, who loved to dance with the prettiest lady available, greatly favored Anne as a partner. In time, she asserted herself to the extent of pestering Washington into having his portrait painted by Gilbert Stuart when the painter was in town. Washington ordinarily disliked having his pictures painted, avoiding it when he could. There are nevertheless a great many pictures of Washington on display, crossing the Delaware and whatnot, all showing the same grim face. After his death, it became necessary for most of the many new pictures of him to attach the same Gilbert Stuart head to a variety of imaginary depictions. Benjamin Franklin, by contrast,seemed to enjoy the experience of being a sitter so there are many more portraits of him actually drawn fro life. Add Washington's social sponsorship an almost unlimited personal budget for parties, and Anne Bingham quickly established herself as the reigning queen of the court without even provoking Martha Washington's hostility. This was a busy ladies' world; one new arrival in Philadelphia described herself as exhausted by having to return the courtesy visits of ninety different ladies during her early weeks in town. The expense of such competition emerges from brief reflection on the variety of clothes needed to keep up with changing styles, and the elegance of carriages, footmen, etc.
The Chew Sisters
Anne Willing Bingham was soon joined at the center of things by two Chew sisters,naturally referred to as astonishingly beautiful, who not only had their own mansions, but also Cliveden the summer place in Germantown as available venues for parties. It was commonly stated to be "social suicide, not to be home when the Chew sisters came to call." Delicious gossip was of course a strong undercurrent in such a social whirl, and Harriet Chew Carroll made a significant contribution. This daughter of Benjamin Chew the former Chief Justice (and Son of William Penn's personal lawyer)had married the son of very rich Charles Carroll of Carrollton, Maryland, but had to drop out of society because of notoriety associated with her abusively alcoholic husband. Similarly, Catherine Alexander Duer, who had married the son of the New Jersey patriot Lord Stirling, lost her social standing when her husband got deeply into debt in ventures with Robert Morris to the tune of today's equivalent of $40 million. As a Treasury official, there was a question of Duer's using public money to speculate privately,although he died in debtors prison before matters were completely clarified. His wife, who was known for having fifteen different wines on the dinner table, ended up her days running a boarding home to support herself. No doubt other transgressions were suppressed or covered up, while the political process was sufficiently advanced even in the early days of the Republic, to introduce some deliberate falsehood into the gossip mill. No doubt, one of the strongest drinks at the receptions was the bubbly wine of knowing all the inside scoop. And meanwhile, the potential disgrace of falling from favor was immensely powerful in enforcing conformity among those who might otherwise think themselves immune to it.
Some People were left out for various reasons, even if they could keep up financially or politically. It's always a little hard to identify why some people are social duds. Abigail Adams Smith seems to have been one of these, a constant source of adverse commentary about the extravagance, hypocrisy, etc., etc. English literature at this time has Jane Austen and William Makepeace Thackery, Pope Swift, and Dr. Johnson to satirize and constrain the social whirl, but American seems to have produced little more than correspondence and hushed remarks. The feeling of resentment was constantly growing in Republican circles, however, feeding a growing undercurrent of hostility undermining something so elitist and therefore somehow UnAmerican. After ten years in Philadelphia elegance, the District of Columbia was discovered to be scarcely more than a dismal swamp when the capital moved there, a place quite unsuited to high society. Dolley Madison revived things somewhat while acting as hostess for the widower Thomas Jefferson, and when her husband became the next President, opened her receptions to the general public. One can easily imagine the intense hostility of Andrew Jackson to any of this, however. Washington DC has since evolved a pallid political social whirl, because America still has politically ambitious rich folks, and plenty of money for indirect lobbying. But it hasn't ever been the same as the glory days in Philadelphia, and probably never will be. Present members of the financial/political elite who now work in Washington are in a great hurry to leave town every weekend, abandoning its empty office building to the tourists and civil servants.
The Republican Court
The Republican Court served an important role in helping America unify thirteen colonies into a single nation. Because Philadelphia was for a time the center of the country, economically, socially and politically, all people of prominence in here, wanted to know each other. Variations of wealth and breeding stratified the women somewhat differently from the Variations of wealth and power of their husbands, ad constant mixing of the two strata unified the leadership of the new nation in ways that would have developed more slowly without it. The forced conversations of the receptions, stratified independently, but helped all the newcomers to the scene to adapt to the realities more comfortably. Each group, private and public watched a constant parade of aggressive climbers sort themselves out and searched for how they had made out; wealth got you to the top in one group, private and public, watched a constant parade of aggressive climbers sort themselves out and searched for how they had made out; wealth got you to the top in one group, power got you there in the other. But in both groups the cruelties of social striving made the iron rule clear that such things as wit, gracefulness, physical attractiveness, education and breeding were qualities that floated you to the top of the soup of any flavor. When you are forming a new nation, perceptions of that sort are important to acknowledge. The American aristocracy could be circumvented among the many ways to the top, could be sneered at by those who lacked its unattainable features, and could be sniggered at by real aristocrats of real aristocracies in Old Europe. But it served well enough as a role model for a constant stream of new immigrants, and set a pattern for new communities of the interior, also seeking a sense of cultural direction. Like the breeding of horses and dogs that is such a constant upper class avocation, there is a genetic message, too. Rich men marry beautiful women, so their children or grandchildren tend to be handsome. Handsome or not, gracefulness in social circles is learned at home. Darwin teaches you one thing, Adam Smith's hidden hand teaches another; both are worth attending to. Given eight or ten generations, this sort of evolutionary pressure forms a community, then a nation. It has certainly left major imprint on Philadelphia.
Abigail Adams Smith
On the rest of the nation as well, but in different ways. Along the east Coast, first families tend to persist, and went to school so to speak in Philadelphia during Washington's presidency. Mary Ann Goodrich was a witty and Wealthy wife of a Connecticut political leader. Elizabeth Schuyler Hamilton was the famously vivacious wife of Alexander Hamilton of New York. Alice De Lancey Izard was the toast of Charleston, South Carolina. Patsy Jefferson Married Thomas Randolph of Virginia. Mary White Morris of Philadelphia had a bumpy trip as the wife of Robert Morris. In East Coast high society, the ladies usually have middle names.
Over three centuries, three main streams of immigrants plodded their way across the continent to the West, and then merged. There were westward pioneers from north of Philadelphia with a certain kind of accent, from South of Philadelphia with another, and from Philadelphia with the normal way of talking. Each of them was following role models within its own cultural pattern, but the significance of middle names is now only a tip-off to insiders. There are patches of country, like Appalachia we are Texas, which brush off any allegiance to distant origins. But to the degree we are unified, the Philadelphia mixing bowl of the Social Scene during George Washington's presidency is big part of how we got that way.
Magna Carta
In 1976, the bicentennial birthday celebration of the Declaration of Independence contained two major exhibits of its conceptual origins. Mr. H. Ross Perot of Texas loaned his copy of the 1215 Magna Carta, and the Proprietors of West Jersey loaned their 1677 original of William Penn's Concessions and Agreements to the colonists of New Jersey. The purpose of the exhibit was to emphasize the historical origins of the concepts within the Declaration, but even the language of the Concessions is remarkably similar, quite evidently lifted by Jefferson when he was writing. On one point, Penn had the better of Jefferson; he correctly wrote about inalienable rights, while somehow Jefferson gave us unalienable ones.
William Penn
The matter came up recently at a Socrates meeting of the Right Angle Club, where at least one member felt there was no such thing as a natural right, while others wavered. In discussing the rights which the Creator, William Penn and/or Thomas Jefferson may have given us, the various contexts must be held in mind. At the time of declaring our intention to sever relations with Britain's King, there was no Constitution to refer to as a source, and it was impolitic to assert the rights had been given by English kings, like King John. Therefore, the language cleverly short-cuts around the divine right of kings to make a direct connection between the Creator and the colonists. William Penn on the other hand, was a real estate promoter, offering enticements and assurances to prospective colonists who were naturally fearful of risking their lives in sailboats, only to face the possible tyranny of a vassal king who might be even worse than the anointed one. Not only did Penn renounce any suggestion of a Royal role for himself, but went to considerable length describing the legally binding concessions and agreements he was offering. The right of trial by jury, for example, became a right to be punished only by a jury of twelve of one's neighbors. He wasn't talking to lawyers, he was making important distinctions very clear to laymen. These were not rights given by a Divinity who could be trusted, nor something which grew out of Mother Nature. They were the personal promises of William Penn, in personal legal jeopardy of the English courts if he reneged on them. He even had a ready answer for those who discovered religious language in legal documents -- the Quaker belief that, occasional appearances to the contrary notwithstanding, There is That of God, in every man.
H. Ross Perot
As a small side light of the Concessions document, it had long been housed in the little brick hut on Main Street in Burlington NJ, where the Proprietors of West Jersey keep their treasures. The obscurity of these papers was probably their best protection, but the risk of displaying them in Philadelphia at the centennial brought out the need to insure them, hence to appraise their value. The figure of four million dollars was kicked around. Ross Perot might have felt comfortable with this sort of expense as the natural cost of being a rare book collector, but it seemed highly unnatural to Quakers. Sometime afterward, the Surveyor General, William Taylor, was awakened by a call from Burlington neighbors that someone was trying to break in the roof to steal contents of the Proprietorship building. The burglars were unaware that underneath the shingles, the roof was actually made of concrete a foot thick. So the perps were frustrated in their aims, but Bill Taylor was greatly troubled by the implications, actually unable to sleep at night worrying about what was in his custody. So, in time the State of New Jersey constructed a suitable archives building, and the valuable documents were transferred up to Trenton. Time will tell what the Soprano State does with such a valuable possession, but at least the Quakers can now sleep at night.
The rise of the Tea Party movement in 2010 reopens a lifetime question in my mind. What was the American Revolutionary War all about; surely, a tax on tea isn't outrageous enough to go to war over, is it? It only aggravates curiosity to learn this particular law passed by the British Parliament, actually lowered the price of tea.
A somewhat different importance for the 21st Century is, of all the dozens or even hundreds of little civil wars that have popped up in the past two centuries, this American one seems to have had the biggest impact on the thoughts and behavior of the civilized world. The French Revolution comes close, but we meant to speak of persuasive influence on serious minds, not merely bloodiness and lasting grievance. Here are three suggestions, maybe four.
In retrospect, we can see the outlines of three major revolutions, coming together at the end of the 18th Century. The first is the Industrial Revolution, which had its beginnings in England around the city of Manchester. That was a region of major Quaker concentration, many of whom migrated to William Penn's social experiment in seeing what peace could do. The Industrial Revolution flourished in Great Britain far more readily than in France, and in a sense more than in America. But of the three major countries, America had the largest amount of unsettled land, and the greatest natural resources of the three major countries. America was able to think bigger and broader, necessarily requiring broad support from an immigrant population. Diversity was often later to prove a mixed blessing, but in the Industrial Revolution it was vital.
Dissent, French Style
The second major revolution taking place at that time concerned the place of property in the life of every citizen. Up until that time, the King owned all the land and could redistribute it to suit his political needs. What critically mattered was not who formerly owned the land, but rather what was the latest King's latest word on who owned it right now. The American system gravitated to the notion that when the King or any other owner sold the land, it was no longer his; we now think that's quite self-evident. Each successive owner can sell it to his neighbor or bequeath it to his heirs, and at that moment it is no longer his, either. This idea of private property spread throughout the world, but in America it was a clean sweep. Adopting the rather brutal rough justice of the frontier, the Indian prior ownership just didn't count. They had sided with the British in our revolution, and were insistently resistant to assimilation. And anyway, Pope Nicholas in the 13th Century had established the notion of first discovery, which applied to Christians, only, and so Indians didn't count. Fair or unfair, this was going to be the way it was, from that point forward from 1787 when the Constitution was enacted. The longer the situation lasted, the more unlikely it became that it would ever change. America had so much land and so little coinage, that land itself became a sort of monetary standard. The particular American advantage was there was so much land that early settlers and landed gentry could not monopolize it; from meaning land at first, property soon meant any valuable possession. No King, particularly not George III, was going to take this away from the whole population on this side of the Atlantic. England could do as it pleased with its land and its King. If we needed Independence to preserve a general right to hold private property, plenty of men were willing to die to achieve it. And the whole Western world soon followed our example.
The third revolution was the one you read about, Lexington and Concord, Bunker Hill and the Tea Act. That whole chain of events chronicles how America came to be Independent, but somehow fails to explain why we wanted Independence. The Industrial and the Property revolutions explain it better, but such theorizing would certainly mystify the Revolutionaries themselves.
And finally, one begins to wonder if we aren't toying with a reversion to the ideas underlying monarchy when we examine some currently widespread views. There's a notion going about that everybody owns everything, which if carried to an extreme means no one owns anything. When you can notice people who live on the 70th floor of a Manhattan apartment building, proclaiming a right to tell Alaskans whether or not they can drill for oil, you behold this monarchy of the many. And when you see prosperous educated adults shouting at rallies, you can see Alaskans for example want to tell New Yorkers to mind their own business. This land, they seem to say, isn't everybody's at all, it is mine.
It never really was entirely the King's, either. The King was a single person, sometimes a rather brutal one who wasn't likely to tolerate advice from his subjects. At times of crisis, somebody has to make a decision, any decision, and act on it. But most of the time, kings seemed to be in the position of that Czar. The one who said, "I don't rule Russia. Ten thousand clerks rule Russia."
Azilum and the Dauphin are put in here as a placeholder "just in case" a relationship turns up.
Benjamin Franklin
The Last Will and Testament of Benjamin Franklin
I, Benjamin Franklin, of Philadelphia, printer, late Minister Plenipotentiary from the United States of America to the Court of France, now President of the State of Pennsylvania, do make and declare my last will and testament as follows:
William Franklin
To my son, William Franklin, late Governor of the Jerseys, I give and devise all the lands I hold or have a right to, in the province of Nova Scotia, to hold to him, his heirs, and assigns forever. I also give to him all my books and papers, which he has in his possession, and all debts standing against him on my account books, willing that no payment for, nor restitution of, the same be required of him, by my executors. The part he acted against me in the late war, which is of public notoriety, will account for my leaving him no more of an estate he endeavoured to deprive me of.
Having since my return from France demolished the three houses in Market Street, between Third and Fourth Streets, fronting my dwelling-house, and erected two new and larger ones on the ground, and having also erected another house on the lot which formerly was the passage to my dwelling, and also a printing-office between my dwelling and the front houses; now I do give and devise my said dwelling-house, wherein I now live, my said three new houses, my printing- office and the lots of ground thereto belonging; also my small lot and house in Sixth Street, which I bought of the widow Henmarsh; also my pasture-ground which I have in Hickory Lane, with the buildings thereon; also my house and lot on the North side of Market Street, now occupied by Mary Jacobs, together with two houses and lots behind the same, and fronting on Pewter-Platter Alley; also my lot of ground in Arch Street, opposite the church-burying ground, with the buildings thereon erected; also all my silver plate, pictures, and household goods, of every kind, now in my said dwelling-place, to my daughter, Sarah Bache, and to her husband, Richard Bache, to hold to them for and during their natural lives, and the life of the longest liver of them, and from and after the decease of the survivor of them, I do give, devise, and bequeath to all children already born, or to be born of my said daughter, and to their heirs and assigns forever, as tenants in common, and not as joint tenants.
And, if any or either of them shall happen to die under age, and without issue, the part and share of him, her, or them, so dying, shall go to and be equally divided among the survivors or survivor of them. But my intention is, that, if any or either of them should happen to die under age, leaving issue, such issue shall inherit the part and share that would have passed to his, her, or their parent, had he, she, or they been living.
And, as some of my said devisees may, at the death of the survivor of their father or mother, be of age, and others of them under age, so as that all of them may not be of capacity to make division, I in that case request and authorize the judges of the Supreme Court of Judicature of Pennsylvania for the time being, or any three of them, not personally interested, to appoint by writing, under their hands and seals, three honest, intelligent, impartial men to make the said division, and to assign and allot to each of my devisees their respective share, which division, so made and committed to writing under the hands and seals of the said three men, or any two of them, and confirmed by the said judges, I do hereby declare shall be binding on, and conclusive between the said devisees.
All the lands near the Ohio, and the lots near the centre of Philadelphia, which I lately purchased of the State, I give to my son-in-law, Richard Bache, his heirs and assigns forever; I also give him the bond I have against him, of two thousand and one hundred and seventy-two pounds, five shillings, together with the interest that shall or may accrue thereon, and direct the same to be delivered up to him by my executors, canceled, requesting that, in consideration thereof, he would immediately after my decease manumit and set free his Negro man Bob. I leave to him, also, the money due to me from the State of Virginia for types. I also give to him the bond of William Goddard and his sister, and the counter bond of the late Robert Grace, and the bond and judgment of Francis Childs, if not recovered before my decease, or any other bonds, except the bond due from ----- Killian, of Delaware State, which I give to my grandson, Benjamin Franklin Bache. I also discharge him, my said son-in-law, from all claim and rent of moneys due to me, on book account or otherwise. I also give him all my musical instruments.
Sarah Bache
The king of France's picture, set with four hundred and eight diamonds, I give to my daughter, Sarah Bache, requesting , however, that she would not form any of those diamonds into ornaments either for herself or daughters, and thereby introduce or countenance the expensive, vain, and useless fashion of wearing jewels in this country; and those immediately connected with the picture may be preserved with the same.
I give and devise to my dear sister, Jane Mecom, a house and lot I have in Unity Street, Boston, nor or late under the care of Mr. Jonathan Williams, to her and to her heirs and assigns for ever. I also give her the yearly sum of fifty pounds sterling, during life, to commence at my death, and to be paid to her annually out of the interests or dividends arising on twelve shares which I have since my arrival at Philadelphia purchased in the Bank of North America, and, at her decease, I give the said twelve shares in the bank to my daughter, Sarah Bache, and her husband, Richard Bache. But it is my express will and desire that, after the payment of the above fifty pounds sterling annually to my said sister, my said daughter be allowed to apply the residue of the interest or dividends on those shares to her sole and separate use, during the life of my said sister, and afterwards the whole of the interest or dividends thereof as her private pocket money.
I give the right I have to take up to three thousand acres of land in the State of Georgia, granted to me by the government of that State, to my grandson, William Temple Franklin, his heirs and assigns forever. I also give to my grandson, William Temple Franklin, the bond and judgment I have against him of four thousand pounds sterling, my right to the same to cease upon the day of his marriage; and if he dies unmarried, my will is, that the same be recovered and divided among my other grandchildren, the children of my daughter, Sarah Bache, in such manner and form as I have herein before given to them the other parts of my estate.
The philosophical instruments I have in Philadelphia I give to my ingenious friend, Francis Hopkinson.
To the children, grandchildren, and great-grandchildren of my brother, Samuel Franklin, that may be living at the time of my decease, I give fifty pounds sterling, to be equally divided among them. To the children, grandchildren, and great-grandchildren of my sister, Anne Harris, that may be living at the time of my decease, I give fifty pounds sterling to be equally divided among them. To the children, grandchildren, and great-grandchildren of my brother James Franklin, that may be living at the time of my decease, I give fifty pounds sterling to be equally divided among them. To the children, grandchildren, and great-grandchildren of my sister, Sarah Davenport, that may be living at the time of my decease, I give fifty pounds sterling to be equally divided among them. To the children, grandchildren, and great-grandchildren of my sister, Lydia Scott, that may be living at the time of my decease, I give fifty pounds sterling to be equally divided among them. To the children, grandchildren, and great-grandchildren of my sister, Jane Mecom, that may be living at the time of my decease, I give fifty pounds sterling to be equally divided among them.
I give to my grandson, Benjamin Franklin Bache, all the types and printing materials, which I now have in Philadelphia, with the complete letter foundry, which, in the whole, I suppose to be worth near one thousand pounds; but if he should die under age, then I do order the same to be sold by my executors, the survivors or survivor of them, and the moneys be equally divided among all the rest of my said daughter's children, or their representatives, each one on coming of age to take his or her share, and the children of such of them as may die under age to represent and to take the share and proportion of, the parent so dying, each one to receive his or her part of such share as they come of age.
With regard to my books, those I had in France and those I left in Philadelphia, being now assembled together here, and a catalogue made of them, it is my intention to dispose of them as follows: My "History of the Academy of Sciences," in sixty or seventy volumes quarto, I give to the Philosophical Society of Philadelphia, of which I have the honour to be President. My collection in folio of "Les Arts et les Metiers," I give to the American Philosophical Society, established in New England, of which I am a member. My quarto edition of the same, "Arts et Metiers," I give to the Library Company of Philadelphia. Such and so many of my books as I shall mark on my said catalogue with the name of my grandson, Benjamin Franklin Bache, I do hereby give to him; and such and so many of my books as I shall mark on the said catalogue with the name of my grandson, William Bache, I do hereby give to him; and such as shall be marked with the name of Jonathan Williams, I hereby give to my cousin of that name. The residue and remainder of all my books, manuscripts, and papers, I do give to my grandson, William Temple Franklin. My share in the Library Company of Philadelphia, I give to my grandson, Benjamin Franklin Bache, confiding that he will permit his brothers and sisters to share in the use of it.
I was born in Boston, New England, and owe my first instructions in literature to the free grammar schools established there. I therefore give one hundred pounds sterling to my executors, to be by them, the survivors or survivor of them, paid over to the managers or directors of the free schools in my native town of Boston, to be by them, or by those person or persons, who shall have the superintendance and management of the said schools, put out to interest, and so continued at interest forever, which interest annually shall be laid out in silver medals, and given as honorary rewards annually by the directors of the said free schools belonging to the said town, in such manner as to the discretion of the selectmen of the said town shall seem meet.
Out of the salary that may remain due to me as President of the State, I do give the sum of two thousand pounds sterling to my executors, to be by them, the survivors or survivor of them, paid over to such person or persons as the legislature of this State by an act of Assembly shall appoint to receive the same in trust, to be employed for making the river Schuylkill navigable.
And what money of mine shall, at the time of my decease, remain in the hands of my bankers, Messrs. Ferdinand Grand and Son, at Paris, or Messrs. Smith, Wright, and Gray, of London, I will that, after my debts are paid and deducted, with the money legacies of this my will, the same be divided into four equal parts, two of which I give to my dear daughter, Sarah Bache, one to her son Benjamin, and one to my grandson, William Temple Franklin.
During the number of years I was in business as a stationer, printer, and postmaster, a great many small sums became due for books, advertisements, postage of letters, and other matters, which were not collected when, in 1757, I was sent by the Assembly to England as their agent, and by subsequent appointments continued there till 1775, when on my return, I was immediately engaged in the affairs of Congress, and sent to France in 1776, where I remained nine years, not returning till 1785, and the said debts, not being demanded in such a length of time, are become in a manner obsolete, yet are nevertheless justly due. These, as they are stated in my great folio ledger E, I bequeath to the contributors to the Pennsylvania Hospital, hoping that those debtors, and the descendants of such as are deceased, who now, as I find, make some difficulty of satisfying such antiquated demands as just debts, may, however, be induced to pay or give them as charity to that excellent institution. I am sensible that much must inevitably be lost, but I hope something considerable may be recovered. It is possible, too, that some of the parties charged may have existing old, unsettled accounts against me; in which case the managers of the said hospital will allow and deduct the amount, or pay the balance if they find it against me.
My debts and legacies being all satisfied and paid, the rest and residue of all my estate, real and personal, not herein expressly disposed of, I do give and bequeath to my son and daughter, Richard and Sarah Bache.
I request my friends, Henry Hill, Esquire, John Jay, Esquire, Francis Hopkinson, Esquire, and Mr. Edward Duffield, of Benfield, in Philadelphia County, to be the executors of this my last will and testament; and I hereby nominate and appoint them for that purpose.
I would have my body buried with as little expense or ceremony as may be. I revoke all former wills by me made, declaring this only to be my last.
In witness thereof, I have hereunto set my hand and seal, this seventeenth day of July, in the year of our Lord, one thousand seven hundred and eighty-eight.
B. Franklin
Signed, sealed, published, and declared by the above named Benjamin Franklin, for and as his last will and testament, in the presence of us.
Abraham Shoemaker, John Jones, George Moore.
CODICIL
I, Benjamin Franklin, in the foregoing or annexed last will and testament named, having further considered the same, do think proper to make and publish the following codicil or addition thereto.
It having long been a fixed political opinion of mine, that in a democratical state there ought to be no offices of profit, for the reasons I had given in an article of my drawing in our constitution, it was my intention when I accepted the office of President, to devote the appointed salary to some public uses. Accordingly, I had already, before I made my will in July last, given large sums of it to colleges, schools, building of churches, etc.; and in that will I bequeathed two thousand pounds more to the State for the purpose of making the Schuylkill navigable. But understanding since that such a work, and that the project is not likely to be undertaken for many years to come, and having entertained another idea, that I hope may be more extensively useful, I do hereby revoke and annul that bequest, and direct that the certificates I have for what remains due to me of that salary be sold, towards raising the sum of two thousand pounds sterling, to be disposed of as I am now about to order.
It has been an opinion, that he who receives an estate from his ancestors is under some kind of obligation to transmit the same to their posterity. This obligation does not lie on me, who never inherited a shilling from any ancestor or relation. I shall, however, if it is not diminished by some accident before my death, leave a considerable estate among my descendants and relations. The above observation is made as merely as some apology to my family for making bequests that do not appear to have any immediate relation to their advantage.
I was born in Boston, New England, and owe my first instructions in literature to the free grammar schools established there. I have, therefore, already considered these schools in my will. But I am also under obligations to the State of Massachusetts for having, unasked, appointed me formerly their agent in England, with a handsome salary, which continued some years; and although I accidentally lost in their service, by transmitting Governor Hutchinson's letters, much more that the amount of what they gave me, I do not think that ought in the least to diminish my gratitude.
I have considered that, among artisans, good apprentices are most likely to make good citizens, and, having myself been bred to a manual art, printing, in my native town, and afterwards assisted to set up my business in Philadelphia by kind loans of money from two friends there, which was the foundation of my fortune, and all the utility in life that may be ascribed to me, I wish to be useful even after my death, if possible, in forming and advancing other young men, that may be serviceable to their country in both these towns. To this end, I devote two thousand pounds sterling, of which I give one thousand thereof to the inhabitants of the town of Boston, in Massachusetts, and the other thousand to the inhabitants of the city of Philadelphia, in trust, to and for the uses, intents, and purposes herein after mentioned and declared.
The said sum of one thousand pounds sterling, if accepted by the inhabitants of the town of Boston, shall be managed under the direction of the selectmen, united with the ministers of the oldest Episcopalians, Congregational, and Presbyterian churches in that town, who are to let out the sum upon interest, at five per cent, per annum, to such young married artificers, under the age of twenty-five years, as have served an apprenticeship in the said town, and faithfully fulfilled the duties required in their indentures, so as to obtain a good moral character from at least two respectable citizens, who are willing to become their sureties, in a bond with the applicants, for the repayment of the moneys so lent, with interest, according to the terms hereinafter prescribed; all which bonds are to be taken for Spanish milled dollars, or the value thereof in current gold coin; and the managers shall keep a bound book or books, wherein shall be entered the names of those who shall apply for and receive the benefits of this institution, and of their sureties, together with the sums lent, the dates, and other necessary and proper records respecting the business and concerns of this institution. And as these loans are intended to assist young married artificers in setting up their business, they are to be proportioned by the discretion of the managers, so as not to exceed sixty pounds sterling to one person, nor to be less than fifteen pounds; and if the number of appliers so entitled should be so large as that the sum will not suffice to afford to each as much as might otherwise not be improper, the proportion to each shall be diminished so as to afford to every one some assistance. These aids may, therefore, be small at first, but, as the capital increases by the accumulated interest, they will be more ample. And in order to serve as many as possible in their turn, as well as to make the repayment of the principal borrowed more easy, each borrower shall be obliged to pay, with the yearly interest, one tenth part of the principal and interest, so paid in, shall be again let out to fresh borrowers.
And, as it is presumed that there will always be found in Boston virtuous and benevolent citizens, willing to bestow a part of their time in doing good to the rising generation, by superintending and managing this institution gratis, it is hoped that no part of the money will at any time be dead, or be diverted to other purposes, but be continually augmenting by the interest; in which case there may, in time, be more that the occasions in Boston shall require, and then some may be spared to the neighbouring or other towns in the said State of Massachusetts, who may desire to have it; such towns engaging to pay punctually the interest and the portions of the principal, annually, to the inhabitants of the town of Boston.
If this plan is executed, and succeeds as projected without interruption for one hundred years, the sum will then be one hundred and thirty-one thousand pounds; of which I would have the managers of the donation to the town of Boston then lay out, at their discretion, one hundred thousand pounds in public works, which may be judged of most general utility to the inhabitants, such as fortifications, bridges, aqueducts, public buildings, baths, pavements, or whatever may make living in the town more convenient to its people, and render it more agreeable to strangers resorting thither for health or a temporary residence. The remaining thirty-one thousand pounds I would have continued to be let out on interest, in the manner above directed, for another hundred years, as I hope it will have been found that the institution has had a good effect on the conduct of youth, and been of service to many worthy characters and useful citizens. At the end of this second term, if no unfortunate accident has prevented the operation, the sum will be four millions and sixty one thousand pounds sterling, of which I leave one million sixty one thousand pounds to the disposition of the inhabitants of the town of Boston, and three millions to the disposition of the government of the state, not presuming to carry my views farther.
All the directions herein given, respecting the disposition and management of the donation to the inhabitants of Boston, I would have observed respecting that to the inhabitants of Philadelphia, only, as Philadelphia is incorporated, I request the corporation of that city to undertake the management agreeably to the said directions; and I do hereby vest them with full and ample powers for that purpose. And, having considered that the covering a ground plot with buildings and pavements, which carry off most of the rain and prevent its soaking into the Earth and renewing and purifying the Springs, whence the water of wells must gradually grow worse, and in time be unfit for use, as I find has happened in all old cities, I recommend that at the end of the first hundred years, if not done before, the corporation of the city Employ a part of the hundred thousand pounds in bringing, by pipes, the water of Wissahickon Creek into the town, so as to supply the inhabitants, which I apprehend may be done without great difficulty, the level of the creek being much above that of the city, and may be made higher by a dam. I also recommend making the Schuylkill completely navigable. At the end of the second hundred years, I would have the disposition of the four million and sixty one thousand pounds divided between the inhabitants of the city of Philadelphia and the government of Pennsylvania, in the same manner as herein directed with respect to that of the inhabitants of Boston and the government of Massachusetts.
It is my desire that this institution should take place and begin to operate within one year after my decease, for which purpose due notice should be publickly given previous to the expiration of that year, that those for whose benefit this establishment is intended may make their respective applications. And I hereby direct my executors, the survivors or survivor of them, within six months after my decease, to pay over the sum of two thousand pounds sterling to such persons as shall be duly appointed by the Selectmen of Boston and the corporation of Philadelphia, to receive and take charge of their respective sums, of one thousand pounds each, for the purposes aforesaid.
Considering the accidents to which all human affairs and projects are subject in such a length of time, I have, perhaps, too much flattered myself with a vain fancy that these dispositions, if carried into execution, will be continued without interruption and have the effects proposed. I hope, however, that is the inhabitants of the two cities should not think fit to undertake the execution, they will, at least, accept the offer of these donations as a mark of my good will, a token of my gratitude, and a testimony of my earnest desire to be useful to them after my departure.
I wish, indeed, that they may both undertake to endeavour the execution of the project, because I think that, though unforeseen difficulties may arise, expedients will be found to remove them, and the scheme be found practicable. If one of them accepts the money, with the conditions, and the other refuses, my will then is, that both Sums be given to the inhabitants of the city accepting the whole, to be applied to the same purposes, and under the same regulations directed for the separate parts; and, if both refuse, the money of course remains in the mass of my Estate, and is to be disposed of therewith according to my will made the Seventeenth day of July, 1788.
I wish to be buried by the side of my wife, if it may be, and that a marble stone, to be made by Chambers, six feet long, four feet wide, plain, with only a small moulding round the upper edge, and this inscription:
Benjamin And Deborah Franklin 178-
to be placed over us both. My fine crab-tree walking stick, with a gold head curiously wrought in the form of the cap of liberty, I give to my friend, and the friend of mankind, General Washington. If it were a Sceptre, he has merited it, and would become it. It was a present to me from that excellent woman, Madame de Forbach, the dowager Duchess of Deux-Ponts, connected with some verses which should go with it. I give my gold watch to my son-in-law Richard Bache, and also the gold watch chain of the Thirteen United States, which I have not yet worn. My timepiece, that stands in my library, I give to my grandson, William Temple Franklin. I give him also my Chinese gong. To my dear old friend, Mrs. Mary Hewson, I give one of my silver tankards marked for her use during her life, and after her decease I give it to her daughter Eliza. I give to her son, William Hewson, who is my godson, my new quarto Bible, and also the botanic description of the plants in the Emperor's garden at Vienna, in folio, with coloured cuts.
And to her son, Thomas Hewson, I give a set of "Spectators, Tattlers, and Guardians" handsomely bound.
There is an error in my will, where the bond of William Temple Franklin is mentioned as being four thousand pounds sterling, whereas it is but for three thousand five hundred pounds.
I give to my executors, to be divided equally among those that act, the sum of sixty pounds sterling, as some compensation for their trouble in the execution of my will; and I request my friend, Mr. Duffield, to accept moreover my French wayweiser, a piece of clockwork in Brass, to be fixed to the wheel of any carriage; and that my friend, Mr. Hill, may also accept my silver cream pot, formerly given to me by the good Doctor Fothergill, with the motto, Keep bright the Chain. My reflecting telescope, made by Short, which was formerly Mr. Canton's, I give to my friend, Mr. David Rittenhouse, for the use of his observatory.
My picture, drawn by Martin, in 1767, I give to the Supreme Executive Council of Pennsylvania, if they shall be pleased to do me the honour of accepting it and placing it in their chamber. Since my will was made I have bought some more city lots, near the centre part of the estate of Joseph Dean. I would have them go with the other lots, disposed of in my will, and I do give the same to my Son-in-law, Richard Bache, to his heirs and assigns forever.
In addition to the annuity left to my sister in my will, of fifty pounds sterling during her life, I now add thereto ten pounds sterling more, in order to make the Sum sixty pounds. I give twenty guineas to my good friend and physician, Dr. John Jones.
With regard to the separate bequests made to my daughter Sarah in my will, my intention is, that the same shall be for her sole and separate use, notwithstanding her coverture, or whether she be covert or sole; and I do give my executors so much right and power therein as may be necessary to render my intention effectual in that respect only. This provision for my daughter is not made out of any disrespect I have for her husband.
And lastly, it is my desire that this, my present codicil, be annexed to, and considered as part of, my last will and testament to all intents and purposes.
In witness whereof, I have hereunto set my hand and Seal this twenty-third day of June, Anno Domini one thousand Seven hundred and eighty nine.
B. Franklin.
Signed, sealed, published, and declared by the above named Benjamin Franklin to be a codicil to his last will and testament, in the presence of us.
Francis Bailey, Thomas Lang, Abraham Shoemaker.
Effingham Buckley Morris
The vibrant chatter of schoolchildren is familiar at the Academy of Natural Sciences; its museum is a standard stop for local school trips and family outings. Effingham Buckley Morris, the president of the Academy from 1928 until his death in 1937, is largely to thank for the museum's youthful spirit. A giant of the Philadelphia banking community, Morris used his success in business as well as his connections to other local institutions to advance the Academy's outreach. In 1936, after conducting a comprehensive survey of the Academy's work, Morris and his associates announced the Educational Development Program. One goal was to create a specific Education Department, dedicated to educating children from local private and public schools. As Morris put it on the day of the Program's public unveiling, "We want a museum where ideas are on display rather than things." The Academy has certainly succeeded over the years in fulfilling Morris' ambitions.
Morris had quite a knack for inspiring people and institutions to think big and move in new directions. He was often quoted as having a unique ability to "enlist the loyal co-operation of his colleagues," garnering followers and supporters wherever he went.
A member of the well-known Quaker "Morris" family of Philadelphia, Effingham Buckley came from a long tradition of civic engagement. Effingham was born in the old Morris mansion on Eighth Street, the son of Israel Wistar Morris and Annis Morris Buckley. During his boyhood he attended the Classical Academy of Dr. John W. Faires and then enrolled at the University of Pennsylvania for undergrad. It was at Penn that he began his long and illustrious career as a "leader," founding the College Boat Club and becoming one of the first presidents of the University Athletic Association. His popularity and vibrant spirit only grew as he established himself as an adult in the Philadelphia community. Although Digby Baltzell was later to immortalize a tradition of disdain for the diffidence and lack of distinction of Quaker-dominated Philadelphia, he certainly seems to have overlooked Effy Morris.
Old Morris Mansion
After receiving his graduate degree in Law from Penn, Morris worked exclusively in that field for several years. During this period of American expansion and economic growth, Morris was heavily involved in the booming railroad business throughout Pennsylvania, helping to settle deals during its various organizational forms. Because of its many mergers and acquisitions, a successful railroad mainly embodies a successful lawyer. During the long period when railroads were at the heart of the Philadelphia economy, a majority of railroad presidents were lawyers.
Perhaps the crowning achievement of Morris' career, however, was his wildly successful Presidency at the Girard Trust Company. One of his first moves as President was to set the company's important presence in stone through the construction of the Pantheon-esque Girard Trust Company building on Chestnut and Broad streets. Attached to this building, and now home to the Ritz Carlton hotel, is a tall, impressive skyscraper that is also part of Morris' legacy. This white skyscraper had many critics during the days of its construction in 1888, but it was to become the first "office" building of its kind. Although the Witherspoon building at 13th and Chestnut makes the same sort of claim, the two Girard structures across the street still dominate the heart of the city today.
Girard Trust Building
During his career, Morris managed to become involved with a host of financial institutions in Philadelphia; he was the director of the Philadelphia National Bank, the Fourth Street National Bank, the Commercial Trust Company and a manager of the Philadelphia Saving Fund Society. He also became the trustee of large estates, including those of Anthony J. Drexel, and William Bingham.
Aside from his financial involvement in Philadelphia society, Morris was also an active member in its cultural societies. The Colonial Society of American, the Historical Society and the Union League are just a few clubs of which Effingham Morris was a member. Morris also became a dedicated patron of the sciences, joining the board of the Wistar Institute of Anatomy and Biology and in 1928, donating to the Institute 150 acres of historic Pennsylvania land in Bucks County for the study of biology.
New Ritz Carleton Hotel
Effingham became a member of the Academy of Natural Sciences in 1896. He was later elected Chairman of the Finance Committee in 1905, then to the Board in 1925 where he was then elected president in 1928. Effingham approached his presidency with caution and modesty, aware of his limited knowledge in the scientific field and often enlisting the advice of his so-called "alter-ego," and the Academy's future president, Charles M. B. Cadwalader. Morris used his unique skills and local connections to help the Academy grow in new directions and expand its educational capacities.
Morris remained active until his death in 1937 and was, in no doubt, a dominant force in the development of Philadelphia and the improvement of its institutions. His portrait in the Academy's Library serves as a reminder of the Institution's deep and historical connections to the Philadelphia non-scientific community.
Elizabeth Powel
If George Washington were still alive he would no doubt be a Republican, but the term Republican Court actually has nothing to do with R's and D's. It was a scheme deliberately cooked up by Washington and Madison to enlist support by the new government's important ladies for a modified version of a European royal court, to make thirteen colonies into a cohesive nation. A most remarkable thing about it was its frank imitation of the royal courts, something only the Father of His Country could pull off in former colonies which had just fought an eight-year war to be rid of monarchy. It is one more great testimony to the faith of Americans in George Washington; but it also testifies to the power of enthusiastic women, once they agree on a project. Chief among the leaders in this court was Elizabeth Powel, along with her niece living around the corner on Spruce Street, Anne Willing Bingham. Recently, the Peale Society of the Academy of Fine Arts held a candlelight dinner in Mrs. Powel's magnificent second-floor dining room, while scholars of the history of the Republican Court told assembled notables of Philadelphia what had once been what, during the first ten years of the Republic.
Dining Room
Members of the early Congress were largely the same men as the founding fathers of the Constitutional Convention, hand-picked by Washington and Madison to persuade the legislatures of their colonial states to give up state sovereignty, for a unified nation. There was the difference that now they brought their wives to live in Philadelphia during sessions of Congress. Those women wanted to know each other, and wanted to have something exiting to do together in the largest city in the nation. Their husbands knew well how politically useful it was to be socially acquainted in this way, so everybody liked the idea of suddenly becoming nationally connected. The initial idea proved unworkable. Martha Washington was supposed to become Lady Washington, reigning over weekly receptions.
In Our Cups
But Martha unfortunately wasn't up to the task, and Anne Bingham whose rich husband had taken her on lengthy tours of European royal courts, moved right in and took charge of this project. Besides her cousin Elizabeth Powel, notable members of this social whirl were the two daughters of Chief Justice Benjamin Chew, Alexander Hamilton's wife, and various members of the Shippen and Willing families. Members of the family of Lord Sterling of New Jersey, Charles Carroll of Carrolton, Maryland, Cadwaladers of various sorts, and a number of other names famous from then until even today joined their affiliations with ladies from other states through parties and even some weddings. John Adams was particularly awestruck by the poise and beauty of Anne Bingham, although Abigail Adams may not have been quite so infatuated. It was a dizzy whirl, with dinner parties the central activity just as they are in Philadelphia even today. Country bumpkins had to learn how to dress, to talk and to eat with the right spoon and keep their elbows off the table; those who could tactfully show them what was what, were friends for life. Centuries later, Emily Post made a fortune writing books about these rules.
Republican Court
In those days, they even had their war cry, which was to raise a glass and shout back "Huzzah" in response to the proposer of a toast, who had raised his glass starting the warcry. It wasn't "Skol" or "Cheers" or "Here, here" if you knew what was what; it was "Huzzah". Most fashionable dinners had at least twenty courses, but the ladies didn't eat them. It was a whispered instruction among the ladies that they should eat before the dinner, so they could gracefully decline to gobble up goodies, and spend their time in gay conversation or waiting to be asked to dance. Drinking and eating, especially drinking, was for the men at the party, although naturally the many courses of the banquet were put in front of the ladies to be airily ignored. When George Washington was present as he often was, or even La Rochfoucault himself, it was important to remember every spoken word.
And, you know, it worked. When these important people went back home, they took the customs of the Republican Court with them. The American diplomatic corps found the equivalent of minor-league training for their efforts on behalf of the country abroad. Politics was easier if you personally knew your adversaries as well as your allies. The persistance of the same family names in the Social Register, the lists of The Four Hundred and other compilations of high society show that Anne Bingham and Elizabeth Powel did indeed know what they were doing, and for that matter, so did George Washington. If anyone else had been at the top of this heap, Thomas Jefferson stood ready to attack with all his might.
Amity Button
But he, and even Patrick Henry, didn't dare attack Washington. The aristocrats of Old Europe probably did sneer at this amateur effort, and in some circles still do. But the inability of absolutely any other group of nations, whether European, Asian or South American, to unite peacefully is a thumb in the eye of anyone who mocks George Washington's little Philadelphia creation. And to think it all began right here, right here in the Powel House, right here in the dining room on the second floor. For that, folks, one thunderous "Huzzah!"
---
REFERENCES
---
| | |
| --- | --- |
| A Portrait of Elizabeth Willing Powell: 1743-1830 David W. Maxey ISBN-13: 978-0871699640 | Amazon |
James Wilson
OCTOBER 4, 1779. The British had conquered then abandoned Philadelphia; order was still only partially restored. Joseph Reed was President of the Continental Congress, inflation ("Not worth a Continental") was rampant, and food shortages were at near-famine levels because of self-defeating price controls. In a world turned upside down, Charles Willson Peale the painter was leader of a radical group of admirers of Rousseau the French anarchist, called the Constitutionalist Party, leaning in the bloody direction actually followed by the French Revolution in 1789. Peale was quick to admit he had no clue what to do with his leadership position, and soon resigned it in favor of painting portraits of the wealthy. Others had deserted the occupied city, and many had not yet returned. The Quakers of the city hunkered down, more or less adhering to earlier instruction from the London Yearly Meeting to stay away from any politics involving war taxes. About two hundred militia roamed the city streets making trouble for anyone they could plausibly blame for the breakdown of civil order. Philadelphia was as close to anarchy as it would ever become; the focus of anger was against the pacifist Quakers, the rich merchants, and James Wilson the lawyer.
Fort Wilson
Wilson had enraged the radicals by defending Tories in court, much as John Adams got in trouble for defending British troops involved in the Boston Massacre; Ben Franklin advised Wilson to leave town. It is still possible to walk the full extent of the battle of Fort Wilson in a few minutes, and the tourist bureau has marked it out. Begin with the Quaker Meeting at Fourth and Arch. A few wandering militiamen caught Jonathan Drinker, Thomas Story, Buckridge Sims, and Matthew Johns emerging from the Quaker church, and rounded them up as prisoners. The Quakers were marched down the street for uncertain purposes when the militia encountered a group of prominent merchants emerging from the City Tavern. Unlike the meek Quakers, Robert Morris and John Cadwalader the leader of the City Troop ordered the militia to release the prisoners, behave themselves, and disperse; Timothy Matlack shouted orders. It was exactly the wrong stance to take, and about thirty prominent citizens were soon driven to retreat to the large brick house of James Wilson, at the corner of Third and Walnut, known forever afterward as Fort Wilson. Doors were barred, windows manned, and Fort Wilson was soon surrounded by an armed, shouting, mob. Lieutenant Robert Campbell leaned out a third story window, and was soon dropped dead by a lucky bullet. It remains in dispute whether or not he fired first. Crowbars were sought, the back door forced open, but the angry attackers scattered after fusillades from inside.
Joseph Reed
Down the street came President Reed on horseback, ordering the militia to disperse, with Timothy Matlack at his side; both men were well-known radicals, here switching sides to maintain law and order. The City Troop arrived, an order was given the cavalry to Assault Every Armed Man. The radicals were finally dispersed by this makeshift cavalry charge, cutting and slashing its way through the dazed militia. When it was over, five defenders were dead and about twenty wounded. Among the militia the casualties were heavier, but inaccurately reported. Robert Morris took James Wilson in hand and retreated to his mansion at Lemon Hill; Wilson was the founder of America's first law school. Among other defenders huddled in Fort Wilson were some of the future framers of the Constitution from Pennsylvania: General Thomas Mifflin, Wilson, Morris, George Clymer. Equally important was the deep impression left on radical leaders like Reed and Matlack, and Henry Laurens, who could see how close the whole war effort was to dissolution, for lack of firm contol. Inflation continued but the conter-productive price control system was abandoned and never revived; the patriots had a bad scare, and the heedless radicals forced to confront the potentially disastrous consequences of their own amateur performance when entrusted with the power and responsibility they had just been demanding. It was one of those rare moments in a nation's history when the way suddenly opens to previously unthinkable actions.
Timothy Matlack
The Battle of Fort Wilson was the only Revolutionary War battle fought within Philadelphia city limits; a revolution within a revolution, every participant was a Rebel patriot. Reed and Matlack were the two most visibly appalled by the whole uproar, forced by circumstances to attack the forces of their own political persuasion. But it seems very certain that Robert Morris and the other prosperous idealists were also left with an indelible conviction that even a confederation must maintain central command and discipline with an iron will, or all might be lost. A knowledgable French observer estimated that Robert Morris then owned assets worth eight million dollars, an almost unimaginable sum for the time. But he would lose every penny if effective political control could not be restored. A few days later in the October election, he and all the other Republican (conservative) officials lost their seats. It did not matter; Morris then knew what to do, and his opposition didn't.
Rich Wagner
RICH Wagner, the author of Philadelphia Beer, recently visited the Right Angle Club. It's hard to imagine that Philadelphia was once the American center of beer production, with hundreds of breweries and their associated bottlers, beer gardens, brewing equipment, and horse-drawn beer delivery systems, dominating the city scene. Equally hard to imagine that the last Philadelphia brewery closed in 1987, and the biggest American brewer, Budweiser, was sold to the Belgians in the past year. What's this all about?
Francis Perot
In the early wilderness days, water supplies were tainted and unsafe, so most prosperous Quakers had their own little brewery just to avoid typhoid fever. The first American brewery was started by Anthony Morris (the second Philadelphia Mayor) in 1687, in a little brewery on Dock Creek, which became the early Brewerytown of the city, with several dozen brew pubs for sailors and the like. In 1797 there were over a hundred breweries in Philadelphia, and in 1840 there were over three hundred of them. Perot's brewery was prominent for a long time, since an early Perot married a daughter of Anthony Morris. Since Philadelphia developed the first and famous city water supply in 1800, beer drinking lost its position as a safe beverage in an unsafe city, and gradually water-drinking became the dominant beverage for the strict and upright. At one time in the early Eighteenth century, gin was cheaper than beer, so even the intemperate multitudes deserted beer for a while, although the effect of the higher alcohol content of gin was apparently fairly dramatic.
John Wagner Marker
In 1840 John Wagner imported the yeast for lager beer from Bavaria, at considerable personal risk if he had been caught at it. Prior to 1840, Philadelphia beer was either stout or Porter, a very dark and bitter dose, or else ale, which had the advantage of storing fairly well and thus was popular for sailing vessels and among sailors. The yeast for ale floats to the top and ferments, whereas lager yeast sinks to the bottom of the barrel and requires some refrigeration to slow it down. In all forms of beer, the suds are created by later adding some unfermented beer to the barrel for the purpose of generating carbon dioxide. That's what is going on when you see the bartender in a British pub pulling on a lever to pump it up from the basement. Lager tastes much less beery than other beer, and is by far the dominant form of beer in consumption -- a considerable improvement, in the view of most people. But it has to be cooled, and Philadelphia had a system. Brewerytown moved to Kensington, dominating the local scene. It was produced in barrels which were trucked to the east bank of the Schuylkill where ice formed on the surface of the river, stilled by impoundment above the Fairmount dam. Caves were dug in the banks of the Schuylkill where the barrels full of fermenting beer were hauled to be cooled by the ice for the rest of the process. From there, it was trucked again to bottlers in a general ratio of one brewer for thirty bottlers. More directly, it was trucked to the beer gardens of Spring Garden to Girard Avenue, which gave that area a different sort of reputation as a brewerytown. By this time, most of breweries had moved to the region between 30th and 33rd Streets, near Girard, and most of them still survive, made into condominiums by rehabilitation money. One by one, many sections of downtown Philadelphia acquired a beer environment. A dramatic moment in this process was the advent of the 1876 exposition, which caused many of the Schuylkill fermenting vaults to be acquired by eminent domain. A second momentous change was introduced by the invention of refrigeration, apparently invented in Germany near Berlin, but imported and refined by York and Carrier. Philadelphia was particularly suitable for the importation of coal to fuel the heating of the brew, and the chilling of the fermentation. All of this required large numbers of brewers, bottlers, makers of bottles and inventors of brewing equipment. It took many horses to haul all this material around town, and many teamsters to drive the horses. This was a beer town, until Prohibition.
During the long period of beer ascendency, the advantages of big breweries over small ones was gradually making this a major industry, rather than a local craft. Prohibition completed the destruction of the small craft brewers and brew-pubs. Only 17 of the major brewers survived Prohibition, and then even the big ones went out of business, ending with Schmidt's in 1987, almost exactly three hundred years after the first little one started by that famously convivial Anthony Morris on Dock Street. Evidently the same competitive disadvantages continue as even Budweiser moves to Brussels, where you would ordinarily expect wine to be the popular drink. Changing tastes have been cited as the reason for this shift, but differential taxes seem more probable as an explanation. In most industries, you are apt to find that most of the competition takes place in Washington and Harrisburg, rather than the saloons of Main Street or the salons of Madison Avenue. But perhaps not. We hear that little Belgium is about to have a civil war because the Flemish can't get along with the Walloons. And somebody in Portland, Oregon got the idea that beer was trendy, and started up the growing phenomenon of craft brewers, usually flourishing in brew pubs. We are apparently going back where we started in 1687.
---
REFERENCES
---
| | |
| --- | --- |
| Philadelphia Beer: A Heady History of Brewing in the Cradle of Liberty: Rich A. Wagner: ISBN: 978-1609494544 | Amazon |
Michael C. Quinn
The Right Angle Club of Philadelphia was recently pleased to be visited by Michael C. Quinn, the President and CEO of the forthcoming Museum of the American Revolution, which will be built at Third and Chestnut Streets, on the site of the former Visitors Center. Mr. Quinn comes to us from the Mt. Vernon and James Madison Museums in Virginia, and expects to spend another three years getting the new Museum built and established. It's also expected to cost about $150 million, so look for something really special. The great majority of the required money is expected to come from Philadelphia and surrounding territory, led by a challenge grant from Gerry Lendfest of $40 million.
The collection of Valley Forge and related Revolutionary artifacts was begun by Herbert Burk, an Episcopal rector in Norristown, Pennsylvania, and the son of another Episcopal rector of Clarksboro, New Jersey, and who graduated from the University of Pennsylvania toward the end of the Nineteenth century. The Valley Forge area was pretty well deserted at that time, and the local bishop expressed doubt that it could support both an Episcopal and a Baptist church, particularly since an earlier rector named Guthrie had attempted it and finally disappeared. Reverend Burk, however, was fired with the vision of Washington kneeling in the snow, and highly scornful of doubters who insisted on seeing his footprints in the snow before they would accept it. These were the days just after the German historian Leopold von Ranke had started a movement of great enthusiasm among historians for documents to prove almost anything calling itself history, so there was more than the usual amount of harumphing among academics about authenticity, which Burk dismissed with scorn. Since his second wife was a Stroud, there may have been social issues as well. About all we really know of George Washington's religious beliefs was that he regularly went to Christ Church and sat in Martha Washington's pew; but he resolutely refused to take Communion. It sounds to some of us as though he was more of a politician than a theologian. But the Museum now has picked up successor enthusiasts, determined to make the Museum a success; so let's let that religion matter drop.
Museum of the American Revolution
The old visitors center was given a bell by Queen Elizabeth II, who brought it over on the royal yacht and gave a memorable speech at its installation. The deed to the property does not include the bell, and its future is presently uncertain. However, the building will be torn down and replaced by a much larger structure, intended to house many rooms and a tour lasting hours, to show off Washington's military tent and similar artifacts of the low point of the Revolution, when it rested with the personal character of a few founding fathers, to preserve the drive and idealism of the freezing, starving troops. It's a tall challenge for Mike Quinn to carry it off with the right mixture of showmanship and concern for accuracy. After all, no good story is improved by exaggeration.
Samuel Y. Harris
The Right Angle Club was recently visited by two sprightly young ladies who run a historical building reconstruction firm. Sam Harris once ran the firm and built it into the pre-eminent example of its type, with the quirk that he surrounded himself with women. So, after Sam's unfortunate early death, two of the ladies decided to carry on the business. It was a little hard to picture these two young ladies in blue jeans, climbing all over the rafters of old buildings, but they showed plenty of slides of their work, which in the background showed the ladies doing just that.
St. Peter's Church
Historical old St. Peter's Church at 2nd and Pine called the ladies in to consult on why the beautiful old church built in 1764 would develop a dip in its roof, and were soon told that a rafter had rotted underneath the dip. Further investigations showed that all of the rafters were rotted at the point where they joined the top of the walls, and had to be replaced or reinforced. It eventually developed that a two-million dollar campaign had to be undertaken to finance the restoration. The details of the problem were the rafters had been made of gum wood, which is now unobtainable, and substitute wood of the same quality had to be identified, located, and transported. The original builder named Smith had also built Carpenter's Hall, so he knew what he was doing; it was just hard to find the same materials. The original construction might have lasted another couple hundred years, except there was a time when the upscale Society Hill neighborhood had largely been abandoned to fruit and vegetable distribution, and the congregation dwindled. To save money, the attic had been insulated to save heating costs. It did that, all right, but unfortunately it caused moisture to form, and rot to ensue. Bob Linck, a roofing contractor who was sitting near me, commented that it just went to prove an old adage. Eventually, the economy of excellence would emerge, and demonstrate its value. If reduced cost is what you want, just build things right, and leave them alone.
Posted by:

Robert M Hill

| Aug 27, 2010 10:59 PM
Posted by:

G4

| May 15, 2006 1:55 PM
Blogs
American Philosophical Society

Charles Wilson Peale started his museum of curiosities here, and then moved it to the second floor of Independence Hall, where he painted the famous portrait of himself holding up the curtain.
Musical Fund Hall

>The Musical Fund started as a musician pension scheme, but its hall was used for many historic events. The musicians union has agitated Locust Street ever since; the Musical Fund Society still meets; William Strickland's building now contains condominiums.
What Happened in Philadelphia on July 4, 1776?

There were about 30,000 residents, just a small town, but it was the second largest city in the English-speaking world. Aside from wagons, there were thirty wheeled vehicles. But this is the town where decisions were made.
Tom Paine: Rabble-Rousing Quaker?

Tom Paine is the one who mainly set the fires of revolution burning, and Franklin sent him here, got him a job, circulated his pamphlets. In spite of Franklin's sponsorship, Washington would cross the street to avoid Paine, and fellow Quakers would have no part of his violence. His later life showed him to be a rebel without a cause.
Stephen Girard 1750-1831

Stephen Girard was blind in one eye and never went to school. But he was a successful sea captain, then a successful merchant, then a successful banker. In the last year of his life, he grasped the essence of the Industrial Revolution, made a successful plan for the next century, and wrote a truly remarkable will.
Dr. Cadwalader's Hat

Sometimes it's hard for others to understand what makes Quakers tick.
America in 1767

Baron de Kalb was a spy for France in 1767, correctly predicting that growing American strength would create opportunities for France to make trouble for England, there.
Carpenters Hall

Carpenter's Hall now seems a little place, and it was chopped up into still smaller rooms at the time of the Continental CongressBut nevertheless it was the biggest rentable place in the largest town in the colonies, so 53 delegates crowded in and did their work.
Market Street, East (3)

Philadelphia built a White House for George Washington at Ninth and Market, a block from the place Franklin once flew his kite.
Charles Peterson and Amity Buttons

Most of our really historic buildings have an ivory button nailed to the newell post, and there is only word of mouth to explain why. America's most famous preservation architect tried very hard to document some proof but couldn't..
Keeping Lunaticks Off the Streets

Perpetual Fire Insurance

Perpetual fire insurance was a brilliant idea for two hundred years, but after that the risks have gradually shifted.
The First and Oldest Hospital in America

The history of American medicine is the history of the Pennsylvania Hospital.
Meschianza

With two hundred years of embellishment, the story of the big party the British Army gave for Philadelphia as a goodbye present, lives on and on. For any ambitious hostess, this is still the party to equal, although neither the Quakers nor the patriots thought very highly of it.
Fanny Kemble

Frances Anne Kemble had it all: fame, beauty, wealth, personal friendship with real royalty and literary royalty. Beyond that, she caused a major new understanding of Shakespeare, and was a major force in the abolition of slavery. Philadelphia wasn't big enough to hold her; perhaps no town was.
Philadelphia in '76

>There were about 30,000 residents, the size of a small town, but it was the second largest city in the English-speaking world. Aside from wagons, there were thirty wheeled vehicles.
North of Market

This old local expression originally pointed to where the Quakers live on Arch Street, but over the centuries has taken on a lot of less flattering associations.
The Girl in the Red Velvet Swing

The original Gibson girl's husband was rich, her boyfriend was famous. But blowing somebody's brains out in public is supposed to be a felony.
Shrine of Historical Restoration

Charles Peterson sparked the restoration of Society Hill. In the course of fixing old houses the preservationist found a lot of things for a museum of professionally documented old house parts which now set standards for authentic colonial restoration everywhere in the country.
Washington Square

All five of William Penn's city squares have proud and colorful histories . Washington Square, however, tops them all. It's had prisons, fish ponds, cemeteries, mansions and skyscrapers.
French Philadelphia

The French and the English fought for centuries; colonies seeking independence played one against the other. Our cooking, clothing and architecture went French when we favored France; traces of many periods still reflect that fact.
Christ Church and Elfreths Alley

Two of our oldest and most charming tourist attractions are just across the street from each other..
Our Federal Reserve : Biddle's Bank (2)

Nicholas Biddle was a cultured gentleman who invented a lot of the structure of modern banking. But he got in Andrew Jackson's road.
Pembertons

One of the oldest, most prominent Quaker families contained a multitude of famous, rich, distinguished leaders. Many suffered imprisonment or exile for their pacifism, but one Pemberton is the highest-ranking wartime general buried in Laurel Hill Cemetery. He was a Confederate.
After the Convention:Hamilton and Madison

Two of the main authors of the Federalist Papers -- and hence of the Constitution -- ultimately proved to be acting on entirely different sets of principles, aiming for widely different goals.
Benjamin Franklin: Chronology

Franklin retired at age 42, and spent the other half of his life in public service. Only fifteen years of that career was spent in America. His timing was good, however; he was here for the French and Indian War, the Declaration of Independence, and the Constitutional Convention.
The Heirs of William Penn

The death of William Penn left his heirs the largest land holdings in America. Although they managed it fairly well, it proved to be more than a single family could cope with.
Parliament Provokes a Revolution

King George III personifies what angered the American colonists, but his Ministries acting through Parliament took the actual steps to agitate matters.
William Allen, Tory

History is written by the victors, so the rich Tory William Allen is largely forgotten. But he was Chief Justice, probably the richest man in the colony, the son in law of Andrew Hamilton and the father in law of John Penn, the Proprietor and Governor.
Houses of the Penn Family

Some idea of the social position of William Penn can be gathered from the houses of his family.
The Scotch-Irish In the Revolution

English Quakers and Rhineland Germans were eternally grateful to the British Monarch for offering them an American refuge. By contrast, the Scotch-Irish, although energetic frontiersmen, harbored lasting resentment against the English Kings who had driven them here.
The Jews in Colonial Philadelphia

Sephardic Jews came to Philadelphia quite early as part of New Amsterdam, with a second influx when the British occupied New York. They seem to have played an important role in financing the Revolution.
Two Hotheads May Have Destroyed an Empire

Charles Townshend and William Bradford were separated by an ocean, and surely never met. But if any two people can be said to have deliberately provoked the American Revolution, these two must be considered.
Venturi's Franklin Museum in Franklin Court

For several decades there has been a splendid museum of Franklin's personal life, hidden within the famous block where he once lived. Children love it. .
Armonica, Momentarily Mesmerizing

The armonica was a musical instrument invented by Ben Franklin, who else. Beethoven and Mozart wrote music for it. It made people sick and may even have killed someone.
Community Volunteers in Medicine

A little group of medical volunteers in Pennsylvania's Chester County may not understand the underlying issues very well, but they just pitch in and do what they can about the medically underserved..
Sacred Places at Risk

Church structures don't migrate, but church members do. A volunteer organization in Philadelphia has formed, to help endangered congregations decide how to review their options and act on the best choice.
Stephen Girard, Compulsive Gambler

The richest men in early America had an astonishing characteristic in common. Once they got to the top, they often gambled their whole fortunes on a venture which either busted them or made them incredibly richer.
Gallatin Part II

When Jefferson won the deadlocked election of 1800, Albert Gallatin was the obvious choice for Treasury Secretary. But having destroyed Hamilton's Bank, he had the humiliating duty to reverse position to fight the War of 1812. A five-act play, with duels.
July 4, 1776: Patients in the Pennsylvania Hospital on Independence Day
Patients in Pennsylvania Hospital on Independence Day, 1776.
Nation's First Hospital, 1751-2016

The nation's oldest hospital changed more from 1948 to 2016 than it did from July 4. 1776 to 1948.
Philosophy Means Science in Philadelphia

At least until he met Madame Helvetius, Benjamin Franklin displayed little interest in moral philosophy. His interest was in science, which was called natural philosophy in the Eighteenth Century. The American Philosophical Society is America's oldest and most prestigious society of scientific scholars. If investing is a science, the APS is good at that, too.
The Republican Court

An aristocratic court may seem a peculiar place to unite a republic, but the female-dominated social circle of 1790-1800 nevertheless united a new nation. Its definition of who is socially prominent still persists, in SR -- the Social Register.
Unalienable Rights Before 1776

Lawyers commonly say the Declaration of Independence "informs" the Constitution. But prior informing was performed by William Penn, the Roman Empire, and Hammurabi.
Three Revolutions at Once, Maybe Four

Asking the cause of the American Revolutionary War may be a little simplistic; civil wars pop up, all over the place, all the time. The more important question to ask, is why did this American Revolution have such a dramatic effect on the whole world?
Last Will of Benjamin Franklin

The Franklin Institute of Philadelphia has reproduced Dr. Franklin's last will and testament on the Internet. It is copied here for reader convenience.
Effingham Buckley Morris

Effingham Buckley Morris may not have thought of himself as a scientist but his love for Natural History brought the Academy of Natural Sciences much closer to the public and established the institution as an important component of Philadelphia. His banking career was a notable one.
Powel House, Huzzah!

On 3rd Street in Philadelphia's Society Hill, stands the finest surviving Georgian House of what Washington and Madison called the Republican Court. A great many traditions of American high society were formed in the second-floor dining room of this house.
Fort Wilson: Philadelphia 1779

History was made at 3rd and Walnut, but so far, is unmarked.
One Big Brewerytown

It's hard to realize that Philadelphia was the center of beer production in America until fairly recently. It's been argued it is still the center of consumption.
Museum of the American Revolution

The old Visitors Center at Third and Chestnut has been vacant for more than a decade. Its new occupant is going to be a Museum dedicated to the causes and sacrifices of the American Revolution.
The Eventual Economy of Excellence

In the long run, it's cheaper to leave good construction alone.